1 March, 2021
Japan Research Reactor No. 3 Resumes Operation
On February 26, the Japan Atomic Energy Agency (JAEA) announced that it had resumed operation of its research reactor—the Japan Research Reactor No. 3 (JRR-3), with a maximum thermal output of 20 MW—in Tokai Village, Ibaraki Prefecture.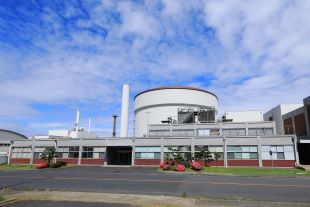 In November 2018, after some four years of safety examinations by the Nuclear Regulation Authority (NRA), JAEA obtained approval to make changes to the reactor installation (basic design approval) so as to achieve compatibility with the new regulatory standards.
After seismic retrofitting and other work at the building was completed, the operator successfully carried out a periodic inspection. Full-scale operation available to outside users is scheduled to begin at the end of June.
JRR-3, built in 1962 as Japan's first domestic research reactor, contributed to a range of research activities in the incipient period of nuclear power in the country. At its peak in FY08, the number of total use-days (neutron beam test equipment multiplied by the days of operation) reached 5,270.
Industrial use sharply increased starting in FY05, when JAEA was created through the merging of two semi-governmental organizations, the Japan Atomic Energy Research Institute (JAERI) and the Power Reactor and Nuclear Fuel Development Corporation (PNC). By FY10, industrial use had accounted for about 35 percent of all experiments, which ranged from irradiation tests of reactor fuel and materials to the production of medical isotopes, silicon semiconductors, etc.
In November 2010, JRR-3 was shut down due to the periodic inspection mentioned above. After that, efforts were made to comply with the new regulatory standards created in the aftermath of the giant earthquake of March 2011 (officially named the Great East Japan Earthquake),
In response to increasing demand for neutron irradiation, however, the Science Council of Japan stated in 2017 that the Japan Proton Accelerator Research Center (J-PARC) alone was unable to meet all needs, and that a major role remained for JRR-3. Resuming the operation of JRR-3 at the earliest opportunity was then keenly anticipated to serve as a tool for industry and a site for human resource development.
JAEA hopes that JRR-3 will again become the kind of place where researchers, engineers and technicians meet for scientific research and innovation. The Agency will endeavor to contribute to the region and society through R&D premised on ensured safety and public understanding in the siting area.