29 January, 2018
Japan's NRA Exchanges Views with JAPC President Muramatsu, a Firm Believer in Thorough Safety
On January 24, Japan's Nuclear Regulation Authority (NRA) met and exchanged views with President Mamoru Muramatsu and other officers from the Japan Atomic Power Company (JAPC). The NRA has been holding monthly meetings—open to the public—with the top managements of nuclear operators nationwide on improving nuclear safety. Those meetings are now entering their third round.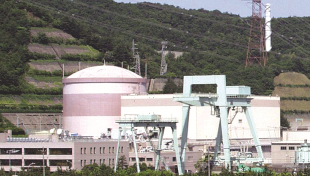 Saying that he would "exercise leadership as president in thoroughly pursuing safety," Muramatsu started off by describing the state of his company's activities in improving safety culture, strengthening nuclear security, educating and training workers, and carrying out regional communications, among other things.
In light of those remarks, NRA Commissioner Akira Ishiwatari, who is responsible for examinations related to earthquakes and tsunami, noted the eruption of Mt. Shirane in Kusatsu that had happened one day earlier, saying, "Natural phenomena have serious consequences for nuclear safety."
Referring to JAPC's Tokai-2 (BWR, 1100MWe), which the NRA is currently examining to confirm its compatibility with new regulatory standards, Ishiwatari went on to say that although the NPP lay farther than the 160-km distance established in the standards for requiring assessments and preventive measures, he hoped that the company would "demonstrate an interest" in pyroclastic flows and volcanic ash.
Along with the compatibility examination, JAPC filed an application for the Tokai-2's lifetime extension last November. Given that the current forty-year operating limit will run out at the end of November of this year, NRA Chairman Toyoshi Fuketa said, "An examination will have to be done in a limited time. Be sure to communicate promptly on all the matters affecting how it will proceed."
In response, Muramatsu said, "Our company is working with a sense of urgency—that is our top managerial priority." He said that JAPC had already asked that experienced human resources be made available from other companies. He reiterated that his company was devoting its full energies to the examination.
Regarding the lengthy suspension of the plant's operation, NRA Commissioner Nobuhiko Ban wondered whether individual workers might have "pent-up frustrations," showing his concern about declining morale in addition to a stagnation of technological capabilities. JAPC's Muramatsu responded that top management would attempt to convey to younger workers the fact that many business opportunities exist in the nuclear field, in the hope of maintaining a high level of motivation among them.
In 2015, JAPC decided to decommission its Tsuruga-1 (BWR, 357MWe). NRA's Fuketa said that he wanted the company to consider the example of the Zion NPPs (PWRs, 1085MWe each) in Illinois in the United States to provide for the effective use of the waste resulting from the dismantling.
The NRA chairman also emphasized that Tsuruga-1 was one of two Mark-I type units in Japan with isolation condensers—the other being the Fukushima Daiichi-1—and asked the company to "preserve" the knowledge and experience gained from the reactor through its other operations and training, as they would be valuable in the future consideration of safety issues.