24 April, 2019
Leaders Meet with OECD Secretary-General Gurría to Address Fukushima Reconstruction
On April 16, during the visit by Secretary-General Angel Gurría of the Organisation for Economic Co-operation and Development (OECD) to Japan, an OECD Leaders Dialogue was held in Tokyo with Governor Masao Uchibori of Fukushima Prefecture, Mayor Satoshi Endo of Hirono Town, and Masaaki Ishikawa, parliamentary vice-minister of Japan's Ministry of Economy, Trade and Industry (METI).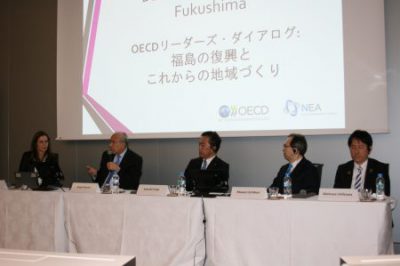 The participants in the dialogue discussed the recovery of Fukushima now that more than eight years have passed since the accident that occurred at the Fukushima Daiichi Nuclear Power Plant, as well as regional reconstruction moving forward.
OECD has been involved in Japan not only in the OECD Tohoku School, an educational project for junior high and high school students in the affected areas, but also in disseminating information on food safety.
At the opening of the Leaders Dialogue, the secretary-general looked back on his visit immediately after the disaster, saying that Fukushima has recovered "amazingly" since then. He expressed his enthusiasm for continued support, saying that Fukushima must be made even stronger.
He also pointed to the need for greater industrial competitiveness via innovative technology for the sake of regional development, adding that aging populations and depopulation of local areas were major challenges. He then asked the Japanese participants in the meeting for their opinions.
Concerning the current state of external recovery, Fukushima Governor Uchibori responded that exports of agricultural, forestry and marine products, and numbers of tourists from overseas, were all increasing. He displayed the prefecture's attitude of proudly challenging the export issue with the slogan, "Made in Fukushima!" and through the Fukushima International Research Industry City Vision—called Innovation Coast—developing new industrial infrastructure in the prefecture's Hama-Dori area, with an eye toward the future.
Next, Hirono Mayor Endo referred to his recent visit to England, noting that "the education of the next generation is necessary everywhere in the world." The town hosts the Fukushima Futaba Mirai Gakuen, a school offering unified educational programs to high school students and—starting in April—junior high students.
Saying that Fukushima's reconstruction, plant decommissioning, and contaminated water measures remained vital issues to the government, METI Parliamentary Vice-Minister Ishikawa said that he hoped that cooperation with the international community would become stronger with the dissemination of information on the state and progress of each of those efforts.
As for particular issues in future reconstruction, Fukushima Governor Uchibori pointed to long-term decommissioning at the Fukushima-Daiichi NPP, as well as to deep-rooted, unfounded fears and misunderstanding about agricultural, forestry and marine products from Fukushima. Overall, he appealed for human resources to be developed, and for knowledge and expertise to be integrated. He encouraged people to "visit, see, eat and feel the attraction of Fukushima."
Hirono Mayor Endo spoke last, pointing to issues of local communities and relationships of trust. He said that his town was ready to exert its leadership in reconstruction, in cooperation with the prefecture. Referring to the reconstruction of the Hama-Dori area, he pointed out that the stage of recovery and reconstruction in each city, town and village was different.
He stressed, however, that everybody's wish to be "better than now" was the same, no matter where he or she lived. "We can do our best, because people are watching us," he said, calling for support and understanding.