18 November, 2021
METI Minister Speaks to IAEA International Conference on Decade of Progress Since Fukushima Daiichi Accident
On November 10, Minister Koichi Hagiuda of the Japanese Ministry of Economy, Trade and Industry (METI)delivered a video greeting at an international conference of the International Atomic Energy Agency (IAEA). In his talk, he spoke of the decade of progress since the 2011 accident at the Fukushima Daiichi Nuclear Power Plants (NPPs).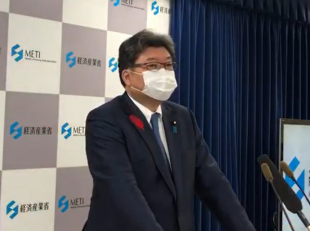 The international hybrid-style conference was held from November 8 to 12 in Vienna. Looking back on actions taken by individual countries and international organizations in the decade following the accident, the participants examined the lessons learned and reviewed the courses of action toward further improvements to nuclear safety. Attending the conference were various government officials, including regulatory authorities, as well as power operators from Japan and other countries.
Minister Hagiuda first reiterated his recognition that Japan has a responsibility to share its experience and lessons learned from the accident with nuclear safety experts around the world. Referring to the handling of ALPS treated water—water purified of radioactive substances other than tritium to levels below the regulatory standards—at Fukushima Daiichi, he said that Japan would deal with the water according to the basic policy announced by the government in April, responding appropriately in a highly transparent manner. Hagiuda also said that Japan would receive safety reviews by the IAEA, and release the information to the world.
The international conference overlapped with the COP26 conference that was held in Glasgow, Scotland. IAEA Director General Rafael Mariano Grossi, in his closing remarks, emphasized that safe nuclear power for everyone was part of the solution to climate change.
On the matter of safety reviews by the IAEA of the ALPS treated water, Lydie Evrard, IAEA deputy director general and head of its Department of Nuclear Safety and Security, visited Japan with others in September to discuss schedules and the items to be reviewed. Currently, as scheduled for November 15 to 19, preliminary meetings with Japanese parties and on-site investigations are being conducted toward dispatching evaluation missions to Japan in December.