18 June, 2019
MHI Tests Anti-Explosion Robot for Plant Inspections, Capitalizing on Experience Gained in Nuclear Accidents
On June 10, Japan's Mitsubishi Heavy Industries (MHI), announced that it had carried out an operational test of its prototype EX ROVR robot for plant inspections at JXTG Nippon Oil & Energy Corporation's Mizushima Refinery in Kurashiki, Okayama Prefecture, located in western part of Japan.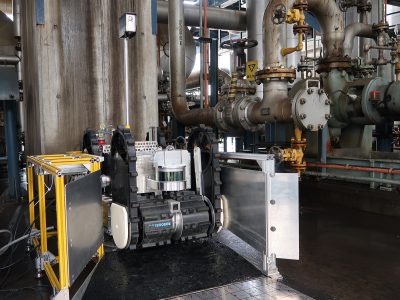 The robot has "anti-explosion" features intended to minimize the chances that the robot itself, through sparks or heat, might ignite an explosion or fire when operated in an explosive atmosphere such as flammable gas. There is an increasing need for such robots to save manpower in patrolling oil refineries and the like.
MHI's experience with robotic technologies includes the successful development of radiation-resistance and remote-control capabilities in response to the JCO criticality accident in September 1999 and the nuclear accident at the Fukushima Daiichi Nuclear Power Plants in March 2011. Based on those experiences, the company has been developing robots for patrolling and inspecting oil and chemical plants, and as a means to respond to infrastructure disasters.
The design of the EX ROVR complies with Japan's explosion protection guidelines, as well as the ATEX/IECEx explosion protection standards widely adopted in Europe and around the world, allowing it to be used safely in areas surrounded by explosive gaseous air ("Zone 1").
During the June 10 test, the EX ROVR moved autonomously through several floors of the narrow plant building, navigating stairs and collecting data with its various sensors. It also managed to maintain automated operation continuously, including it charging at a docking station. Although the robot is still under development, the test confirmed that it meets basic functionality requirements for routine patrols and inspections, as well as for handling emergency situations.
MHI will carry out further tests and demonstrations of the robot in a range of plant environments to improve consistency and enhance safety further, with the eventual goal of commercialization. It hopes to begin accepting orders for the robot in FY20 (April 2020 to March 2021).