3 April, 2020
Minamisoma City Releases PR Videos about Plan to Become a "Robot Innovation City"
Minamisoma City in Fukushima Prefecture has been releasing a series of PR videos created to describe its activities toward realizing the Robot Development Vision, a priority in its strategy for reconstruction.
In the Fukushima Robot Test Field, located in the city, conditions have been created simulating those of the actual use of robots. It also will be the site for R&D, demonstration testing, performance evaluations, and training on various robots to be used on land, on sea, and in the air. The city plans to make the best use of the site, enhancing its environment in a way to attract excellent researchers from Japan and abroad, as well as promoting technological innovation in industries and seeking to develop and launch new ventures.
Drawing on the concept of Society 5.0 as advocated by the Japanese government in its Science, Technology and Innovation Strategy, the video series is titled "Minamisoma 5.0—Minamisoma Robot Innovation City." The videos unified by the key phrase, "Minamisoma robots are not just tools, but also (something else)."
In the videos, the city's mayor, Kazuo Monma, shares his thoughts with engineers from local companies that are engaged in the development and commercialization of drones, as well as with primary school teachers who use robot examples in their lessons. In one video, he says, "Minamisoma robots are not just tools, but hopes in reconstruction," displaying his passion for the city's development of human resources.
In another video, Ginza Farm President Kazuki Iimura, working on the development of agricultural robots, says, "I want to make a robot that works together with people …. Minamisoma robots are not just tools, but sons." His aim is to use robots to support fruit farming, which is plagued by the aging of its workforce.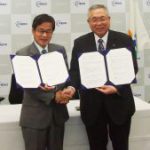 The mayor signed a cooperation agreement last spring with the New Energy and Industrial Technology Development Organization (NEDO) for development of robot-related human resources, making use of the Fukushima Robot Test Field, which was fully opened on March 31 as the core of the Innovation Coast Vision for creating new industries in the Hamadori region of Fukushima Prefecture.
At a regular press conference on March 30, Fukushima Governor Masao Uchibori said, "With cutting-edge industries and researchers coming together from across the country for the first demonstration tests, experiments are now being carried out toward the establishment of new robotic standards."
Citing the example of a demonstration test of a flying vehicle, the governor then expressed his high hopes for the creation of innovative Fukushima-made robotic technology and products, making use of the superiority of the Fukushima Robot Test Field.