3 December, 2015
Mitsubishi Heavy Industries Develops Power Assist Suits for Nuclear Disasters
On December 1, Japan's Mitsubishi Heavy Industries, Ltd. (MHI) announced its development of power-assist suits (PAS) jointly with the Japan Atomic Power Co. (JAPC). The suits, which are capable of helping wearers carry a load of approx. 40kg, are composed of two parts—a base section for the lower body and a target-oriented section for the upper body—that enable responses to a variety of work situations.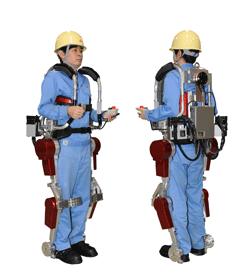 After nuclear disasters have occurred and radiation has entered the environment, the most desirable situation is for remotely-controlled robots to be operated. Until that becomes possible, however, humans must enter the area wearing heavy, massive protective suits to perform such onerous tasks as carrying items, while at the same time being able to respond swiftly and flexibly to emergencies. The PAS was developed for such purposes.
MHI says that its newly-developed suit, unlike more commonly-used types that employ biological information such as muscle (myoelectric) potential, can be controlled using signals from force sensors on the soles of the wearer's feet. That, as well as a structural framework affixing the PAS only to the torso and legs, allows for heavy work to be carried out without the user worrying about the effects of perspiration, and can be put on and taken off easily. The sensors on the soles of the feet can be optimized in terms of number and arrangement, allowing for the appropriate detection of the wearer's movements, realizing superior assisted control that does not interfere with those movements.