1 March, 2015
NDF Advisor: Decommissioning Must Take Place without Increasing Waste
On February 24, a press conference was held featuring international experts advising Japan's Nuclear Damage Compensation and Decommissioning Facilitation Corporation (NDF) on measures for decommissioning and contaminated water management.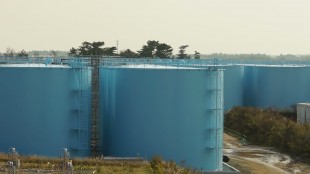 One of them, Paul Dickman, senior policy fellow at the Argonne National Laboratory, said that decommissioning needs to be carried out without increasing waste, stressing the importance of waste measures.
The NDF will reflect the advice of the experts in the strategic plan for decommissioning that it is now formulating, and which will be released by the end of March.
The plan is regarded as the foundation for the Japanese government's revision of the medium-term and long-range roadmap toward the decommissioning of Units 1 to 4 at the Fukushima Daiichi Nuclear Power Station (NPS) of the Tokyo Electric Power Co. (TEPCO), which the Japanese government aims to undertake this spring.
The storage and disposal of debris generated by the March 2011 accident and waste from decommissioning work are major issues at Fukushima Daiichi.
Another adviser to the NDF, Dr. Rosa Yang, fellow at the Electric Power Research Institute (EPRI), pointed out that "while waste disposal technology exists, it is still unknown how it will be applied for final disposal."
Referring to the recent series of accidental deaths of workers, Argonne's Dickman said that the Fukushima Daiichi NPS was "neither an ordinary reactor nor an electric power company," and that it was "necessary to retrain people to act as part of a decommissioning organization."