25 March, 2015
NRA Accepts Finalization of Panel Report Recognizing the Fault Directly Under Tsuruga-2 as Active
At a regular meeting on March 25, Japan's Nuclear Regulation Authority (NRA) accepted the final evaluation report by a panel of experts investigating a fault zone of crushed rock directly underneath the reactor building of Tsuruga-2 Nuclear Power Plant, owned and operated by the Japan Atomic Power Co. (JAPC) in Fukui Prefecture. The report concludes that "the fault could move the ground (active fault)."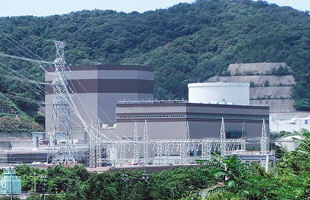 As for the activity of the fault directly below important facilities at Higashidori-1 NPP, owned and operated by the Tohoku Electric Power Co. in Aomori Prefecture, the panel reported that it had not issued a determination because an agreement had not been reached.
New regulatory standards prohibit reactor buildings and other important facilities above any fault that could move the ground. In the current situation, Tsuruga-2 (PWR, 1160MWe) may have to be decommissioned.
JAPC, however, had objected to finalization of the evaluation report, claiming there were problems in the draft evaluation. It will now proceed by filing applications with NRA for necessary permissions to restart the reactor.
At the meeting, NRA Chairman Shunichi Tanaka said that his organization would judge the activity of the fault below Tsuruga-2 in its examinations upon JAPC's applications, demonstrating its intention not to ask the experts for further evaluations. He said that the results of the evaluation would be referred to as "important information" in its examinations.
Regarding the evaluation of the crushed rock zone of the active fault at the Tsuruga Nuclear Power Station, NRA had made its evaluation in May 2013, but, after receiving an investigation report from JAPC in July 2013, it conducted onsite investigations, and has held additional evaluation meetings since January 2014.
JAPC has repeatedly submitted its objections to NRA on how the evaluation was carried out. On March 24, the day before the most recent NRA meeting, JAPC had asked NRA to "finalize an evaluation report after sufficient discussions on a scientific, technical basis."
The panel of experts has conducted onsite investigations twice at Tsuruga-2 since 2012, focusing on the activity of a fault running directly underneath the reactor building. Given that the activity of any of the multiple faults running directly below the reactor building, including the D-1 fault, cannot be denied, the report concluded that it "is a fault that could move the ground."
Tohoku Electric Power first applied to NRA for a safety examination of Higashidori-1 (BWR, 1100MWe) in June 2014. The Authority had virtually frozen its examination until the panel of experts came to a conclusion. With the most recent decision on the evaluation report, NRA will begin a full-fledged examination.
At Higashidori-1, it was significantly difficult to evaluate the many faults on the premises, although onsite investigations were conducted four times. The evaluation states that the two main faults, F-3 and F-9, "could move the ground." Regarding f-1, the fault directly underneath the important facilities, the panel did not come to an agreement on its activity and could not reach a determination.
As for f-1, as well as the f-2 fault running beneath the reactor, NRA Commissioner Akira Ishiwatari mentioned, "It is very difficult to judge the situation. This is not a matter on which we can have an answer soon." He suggested that the examination may be prolonged.