20 April, 2017
NRA Approves Decommissioning Plans for Five NPPs
At its regular meeting on April 19, Japan's Nuclear Regulation Authority (NRA) approved decommissioning plans for five nuclear power plants (NPPs) that will be decommissioned after being in service for forty years. The plans include costs for decommissioning and work schedules. With the approval, the power companies may now begin the decommissioning work.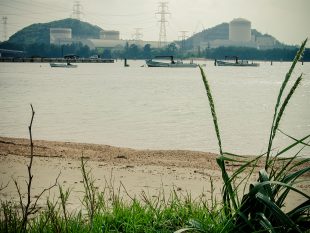 This marks the first instance that the NRA has approved plans for decommissioning since the so-called Reactor Regulation Law was revised to allow NPPs to operate for 40 years in principle. That revision came in the wake of the accident at the Fukushima Daiichi NPPs in March 2011.
Each power company has estimated that it will take about three decades to complete the decommissioning work. However, as the national government has yet to make a decision about disposal sites to handle the radioactive waste coming from the dismantling of the facilities, it is uncertain that the decommissioning work can proceed as intended.
The five NPPs whose decommissioning was approved this time are as follows:
Mihama-1 and -2 (Fukui Prefecture), owned by the Kansai Electric Power Co. (Kansai EP)
Tsuruga-1 (also Fukui Prefecture), owned by the Japan Atomic Power Company (JAPC)
Shimane-1 (Shimane Prefecture), owned by the Chugoku Electric Power Co.
Genkai-1 NPP (Saga Prefecture), owned by the Kyushu Electric Power Co.
The activities included in the plans are fuel removal from spent fuel pools, dismantling of the reactors and peripheral facilities, and eventually removal of all the facilities and equipment.
In certain cases, NPP operating periods can be extended once for up to 20 years if approved by the NRA. The decommissioning of the five NPPs mentioned above had been decided upon in March 2015 based on assessments of their economic efficiency. In contrast, Kansai EP filed applications to extend the lifetimes of three of its aging reactors—the Mihama-3 and Takahama-1 and -2 NPPs, all located in Fukui Prefecture—each of which the NRA approved.
The NRA is now examining a decommissioning plan for the Ikata-1 NPP (Ehime Prefecture), the decommissioning of which the Shikoku Electric Power Co. decided upon in March of last year.