10 February, 2020
NRA Exchanges Views with Tohoku Electric President, Who Says Major Turning Point Is Approaching Toward Restart
At an extraordinary meeting on February 4, members of the Nuclear Regulation Authority of Japan (NRA) exchanged views with President Hiroya Harada of the Tohoku Electric Power Co.. The NRA has been inviting the top managements of the nuclear operators individually for direct talks.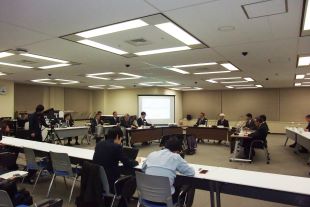 With the NRA having issued a draft review report in November 2019 on its examination of the Onagawa-2 Nuclear Power Plant (NPP, BWR, 825MW), owned and operated by Tohoku Electric, for compatibility with new regulatory standards, President Harada said that his company was "close to a major turning point toward restarting the plant," showing a shift of focus to the operational stage.
He then expressed his intention to exert leadership from the top, based on the pillars of (1) operating and managing the NPPs with an orientation toward safety, (2) maintaining preparedness for disasters, and (3) developing a trusting relationship with the local community.
In the context of the long suspensions of the country's NPPs in the wake of the March 2011 earthquake, he explained his power utility's efforts to strengthen human resource development, emphasizing the continuation of technological strength, on-site training and experience, along with the mastering of new facilities and equipment. He praised the ongoing efforts.
In terms of continuing technology, President Harada introduced various activities, including study meetings led by experienced employees, education and training using simulators, and utilizing former and retired employees. He told the NRA members that the company's technological strength "had reached a certain level."
For its part, the NRA members urged Tohoku Electric to further develop and make use of the Corrective Action Program (CAP), in relation to a new inspection system to be fully put into operation in April. CAP is an effort whereby operators gather relatively minor findings and reflect them, too, in ongoing improvements.
Talking with the press after the meeting, the Tohoku Electric president emphasized that his company had cleared the NRA's six-year examination of the Onagawa-2 NPP. He added that motivation and awareness at the site were on the rise, despite the fact more processes were needed before restarting the unit, including obtaining approval for the construction work plan (detailed design approval) and operational safety programs.
Thirty percent of the employees have no operational experience, and one challenge for Tohoku Electric has been to foster their receptive minds and technological capabilities.
At the press conference, President Harada reiterated the importance of human resource development. He said that Tohoku Electric would proceed with safety measure work on the unit, which is expected to be completed in FY20 (ending March 2021).