27 March, 2020
NRA Issues Draft Review Report for JAEA's HTTR
At a regular meeting on March 25, the Nuclear Regulation Authority of Japan (NRA) issued a draft review report for the High-Temperature Engineering Test Reactor (HTTR), owned by the Japan Atomic Energy Agency (JAEA), saying that it was effectively compatible with the new regulatory standards. The reactor, with a thermal output of 30MW, is situated in Oarai Town (Ibaraki Prefecture).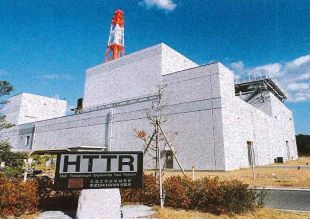 The report will be finalized after being referred to the Japan Atomic Energy Commission (JAEC) and the minister of the Ministry of Economy, Trade and Industry (METI), as well as after being opened to the public for comments.
As for the reactor's location and structure, the NRA says that JAEA took uncertainties into consideration and sufficiently evaluated the risks of a tsunami, specifically recognizing that the HTTR is installed on high ground—some 36m above the sea—and that no seawater intake facility exists. Thus, the examination concluded that there was not any risk of safety functions being lost due to a tsunami.
Additionally, JAEA evaluated various hypothetical accidents and how they would play out. For example, it determined that the concentration levels would not be high enough for it to burn if graphite, used in the reactor as a structural material, would oxidize and carbon monoxide were generated.
Similarly, it concluded that sealing the reactor building would alleviate the impact of released radioactive materials if the reactor containment vessel lost function. The NRA then confirmed that the various measures and systems put in place would prevent expansion of effects, even if multiple accidents occurred.
The 950℃ heat produced by the HTTR is expected to be used for a broad range of purposes, including hydrogen production, power generation, and the desalination of seawater. Moreover, the HTTR is extremely safe despite reaching such high temperatures, owing to such characteristics as the ceramic cladding of its 1-mm diameter fuel particles, its chemically-stable helium coolant, its graphite structural material, and its heat resistance up to 2,500℃ .
After first criticality in 1998, the HTTR achieved a reactor outlet temperature of 950℃ at design thermal output in 2004, and succeeded in operating at the same temperature for fifty continuous days in 2010.
In November 2014, JAEA filed an application with the NRA for a safety examination under the new regulatory standards.
Separately, on March 24, JAEA completed seismic work and restarted its Nuclear Safety Research Reactor (NSRR). It hopes to restart each of its other research reactors as soon as possible.