31 May, 2019
NRA Orders Kansai EP to Backfit Takahama and Other NPPs Based on New Volcano Impact Information
At a regular meeting on May 29, Japan's Nuclear Regulation Authority (NRA), based on the latest assessment of the impact from an eruption of Mt. Daisen in Tottori Prefecture, decided to order the Kansai Electric Power Co. (Kansai EP) to file applications for permissions to change reactor installations for its Takahama, Ohi and Mihama Nuclear Power Plants by the end of the year.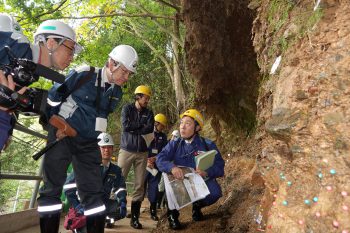 The Takahama-1 through -4, Ohi-3 and -4 and Mihama-3 NPPs had already all cleared compatibility examinations with the new regulatory standards.
However, the most recent analysis of a potential eruption of Mt. Daisen has predicted some 11 cubic kilometers of deposited ash in the Daisen-Namatake Tephra (the place being investigated in Kyoto City), more than previously thought. Accordingly, the so-called "backfit" will be undertaken to confirm compatibility with the new knowledge.
Given, however, that Mt. Daisen is not an active volcano—meaning that there is no imminent eruption—the NRA does not consider it necessary for the power company to suspend the operations of the reactors immediately.
Based on the aforementioned analysis of volcanic ash at the Daisen-Namatake Tephra, the NRA had ordered Kansai-EP in December 2018 to submit reports on its NPP sites. The company then calculated ash layers within the precincts of the Takahama, Ohi and Mihama sites, putting the maximum thickness at 21.9cm. Prior approvals of compatibility under the new regulatory standards had been based on a maximum thickness of 10cm.
Thus, the NRA, having found the units to be incompatible, rendered its decision accordingly.
At a post-meeting press conference, NRA Chairman Toyoshi Fuketa explained the decision, saying, "When new information on natural phenomena is acquired and a threat is found to be more severe than previously assumed, designs must be changed in accordance with that knowledge."
He emphasized that the NRA's approach to backfitting was guided by lessons learned from the accident at the Fukushima Daiichi NPPs in March 2011.