31 July, 2020
NRA Permits JNFL to Alter Rokkasho Reprocessing Plant, Its Having Complied with New Regulatory Standards
On July 29, the Nuclear Regulation Authority (NRA) of Japan finalized a review report for the Rokkasho Reprocessing Plant owned by Japan Nuclear Fuel Ltd. (JNFL), saying that the facility was compatible with the government's new regulatory standards. It then granted JNFL permission to make changes to the installation under the Law for the Regulation of Nuclear Source Material, Nuclear Fuel Material and Reactors (the Reactor Regulation Law). It has been six and a half years since the application had first been filed for the examination in January 2014.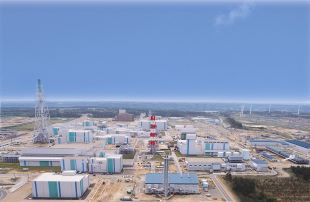 The draft review report was issued more than two months ago, on May 13, and was then made open to the public for comments for thirty days. Since it was the first time for the NRA to hand down a decision affecting the operation of a reprocessing plant, the Authority asked the head of Japan's Ministry of Economy, Trade and Industry (METI) to comment on the decision's consistency with the 5th Strategic Energy Plan. The minister responded that completion of the Rokkasho Reprocessing Plant was "consistent with the plan," based on the basic policy to promote the nuclear fuel cycle.
At a regular meeting on July 29, the NRA Secretariat summarized the public comments received, of which there had been 574. Following those explanations, NRA Chairman Toyoshi Fuketa and the four other commissioners approved the review report.
At a regular press meeting held on the same day, Chairman Fuketa, looking back, said, "The examination had been suspended at one point due to quality management issues. It then took quite a long time to obtain common understanding." He went on to say that the examination of the work plan of the facility—necessary to start operation of the plant—would be difficult because of the large amount of equipment involved. The task would remain challenging, he concluded.
Upon receiving the approval, JNFL President Naohiro Masuda released a comment, saying that it was a great step forward toward the completion of the plant and its subsequent safe operation, and expressed his gratitude to the people in the siting communities for their support. He said that his company would implement measures to improve safety, and would later aim to further improve safety continually. JNFL plans to complete the reprocessing plant in the first half of FY21 (ending March 2022).
Meanwhile, Chairman Kazuhiro Ikebe of the Federation of Electric Power Companies of Japan (FEPC) stated that the approval marked "a major point toward the completion of the Rokkasho Reprocessing Plant, and is thus quite significant." Noting the use of nuclear power as a key base-load power source and the importance of the nuclear fuel cycle, he added that the industry would give its undivided support to JNFL on the project.