7 August, 2020
Nuclear Powered Ship Mutsu Designated as Special "Ship Heritage"
On July 31, the Japan Society of Naval Architects and Ocean Engineers (JSNAOE) announced that it had selected eight vessels for certification for this fiscal year under its "Ship Heritage" project, including the nuclear-powered ship "Mutsu" (retired in 1992).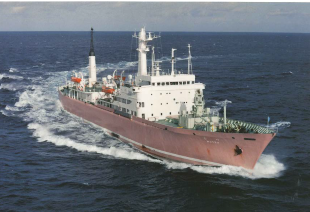 The purpose of the Ship Heritage program is to increase awareness of vessels that have contributed, historically and technologically, to industrial and cultural development, through their various facilities, equipment, and reference materials. Ships no longer in service have been eligible for Ship Heritage since FY19 (April 2019 to March 2020).
Mutsu was selected for its technological value as "Japan's first nuclear ship, which generated significant technological knowledge and information." JSNAOE will present the certificate for Mutsu to the Japan Atomic Energy Agency (JAEA), successor organization to the Japan Nuclear Ship Development Agency, which initiated R&D using Mutsu.
The need in Japan for R&D on nuclear-powered ships was included in the Long-term Program on the Development and Utilization of Atomic Energy, issued by the Japan Atomic Energy Commission (JAEC) in 1961, toward construction of larger, faster vessels to cope with increasing volumes of trade.
The Japan Nuclear Ship Development Agency was then established in 1963, after which such R&D went into full swing. The design and manufacture of the first ship—namely, Mutsu—aimed at using domestic technologies as much as possible, including the reactor. Following criticality tests, which began in 1965, construction began in 1968, with the ship first launched in 1969. In 1974, however, a radiation leakage occurred due to a shielding problem, substantially delaying the plan.
In 1978, Mutsu underwent a comprehensive safety inspection and shielding improvements in Sasebo (Nagasaki Prefecture). In 1988, it arrived at Sekinehama Port in Mutsu City (Aomori Prefecture). After its power output was increased in a series of tests, sea trials began in March 1990. In February 1991, the ship received certifications of compliance under the Law for the Regulation of Nuclear Source Material, Nuclear Fuel Material and Reactors (the Reactor Regulation Law) and the Ship Safety Law. Japan's nuclear-powered ship had thus been completed.
In four separate test voyages, Mutsu sailed to the vicinity of Hawaii to the east, Fiji to the South and Kamchatka Peninsula to the north, conducting operations in a variety of conditions—normal, warm and rough seas—and acquiring valuable data not obtainable on land. The total navigated distance of Mutsu under nuclear power was approximately 83,000km (equivalent to circling the Earth twice), while its reactor was operated for 2,252 hours (converted to 100-percent output equivalents).
Mutsu was then decommissioned and partially disassembled, with its reactor now stored and displayed at the Mutsu Science Museum in Mutsu City. The body of the ship was remodeled into the oceanographic research ship "Mirai," owned by the Japan Agency for Marine-Earth Science and Technology (JAMSTEC), and which is still in service.
Other vessels selected under the Ship Heritage program this year include the Daigo Fukuryū Maru, the only wooden tuna fishing boat in existence in Japan, and Ferry Sunflower, a pioneering large car ferry.