13 October, 2020
NUMO Accepts Suttsu's Application for Literature Survey in Selecting HLW Final Disposal Site—First Since Release of Map of Scientific Features
On October 9, the Nuclear Waste Management Organization of Japan (NUMO) accepted an application from Suttsu Town in Hokkaido to undergo a literature survey as part of the process of selecting a high-level radioactive waste (HLW) final disposal site.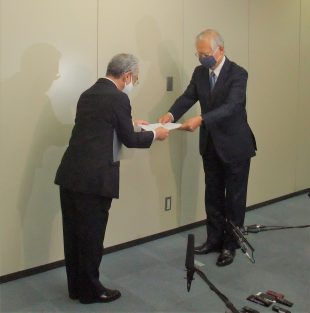 The literature survey is the first of three stages provided in the Designated Radioactive Waste Final Disposal Act, as follows: (1) a literature survey (lasting about two years), (2) a preliminary investigation (about four years), and (3) a detailed investigation (about fourteen years).
The survey will consist of desk research based on specific literature and data on the area, including geological maps and mineral resource maps. No actual on-site work (boring, etc.) will be involved.
Also, before the next stage (the preliminary investigation) commences, opinions will be solicited anew from the governor and the heads of relevant municipalities. If any of them object, the process will end.
Toyo Town in Kochi Prefecture had applied for a literature survey as far back as 2007, but shortly withdrew its application thereafter. Accordingly, the recent application by Suttsu Town was the first to be made nationwide since the map of scientific features—objectively showing the distribution of scientific features in the underground environment throughout Japan—was first released in 2017.
On October 9, Suttsu Mayor Haruo Kataoka visited NUMO, personally delivering the application to its chairman, Shunsuke Kondo, who, with gratitude, stated his organization's desire to proceed through dialogue and mutual learning, saying, "NUMO will study and learn together with the local community, asking for guidance and advice."
NUMO will now follow the necessary procedures, including (1) confirming information shown in the map of scientific features, (2) issuing a work plan for the literature survey, and (3) filing an application with the Ministry of Economy, Trade and Industry (METI) for permission to alter its business plan for the current fiscal year.
At a press conference held after a Cabinet meeting on October 9, METI Minister Hiroshi Kajiyama, after Suttsu filed it application, also noted that another petition to accept a literature survey had been submitted to the Kamoenai Village Assembly in Hokkaido, and that the assembly had accepted and endorsed it one day earlier, on October 8.
Expressing appreciation for the decisions of both municipalities, the minister said, "The government will try to get as many areas around the country interested in final disposal as possible, and then to obtain their understanding and cooperation." He stressed the national government's determination to strive to enhance understanding of the issue.
METI, on October 9, had requested that Kamoenai Village accept a literature survey, and the village had expressed its acceptance of its request from the government.