11 July, 2017
OECD/NEA Director-General Magwood Asks Japan to Boost International Cooperation, So As to Utilize Its Strength
On July 4, Director-General William D. Magwood of the Nuclear Energy Agency (NEA), a specialized agency under the Organisation for Economic Co-operation and Development (OECD), on a visit to Japan, was invited to attend a regular meeting of the Japan Atomic Energy Commission (JAEC).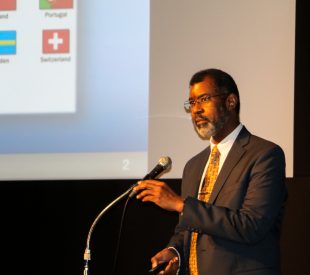 Earlier, on July 2 and 3, he had attended the 2nd International Forum on the Decommissioning of the Fukushima Daiichi Nuclear Power Plants in Fukushima Prefecture.
At the JAEC meeting, Magwood exchanged views with Yoshiaki Oka, the organization's chairman, along with other officials. He explained to them about NEA's main activities, including the fact that it serves as the secretariat for three international initiatives, among which is the Generation IV International Forum (GIF). He also referred to the NEA's Nuclear Innovation 2050 (NI2050) initiative promoting the early introduction of new technology through multinational cooperation.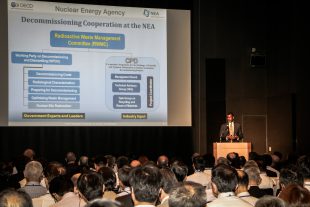 Magwood also gave high marks to Japan's nuclear and energy policies, saying, "The central government has firmly committed itself, and infrastructure is in place with no financial issues. Japan is a major participant in international cooperation as well."
Regarding the stagnation of the Japanese nuclear industry in the wake of the March 2001 accident at Fukushima Daiichi, he said that it was time for Japan to stop and consider its future course and vision, adding that "the world is eager to see what Japan decides."
He then said that Japan's nuclear experts and specialists were "experienced and highly competent, and their presence is valued at international conferences." Magwood went on to praise the technical expertise of those personnel, urging them to be more active in multinational activities.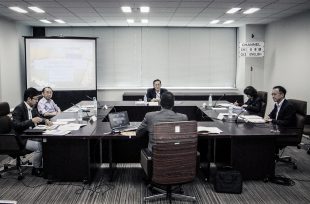 In terms of the future of energy and the economy, Magwood first noted that power demand was expected to increase due to the growing use of electric vehicles and the like, and that the ability to provide a stable supply of inexpensive electricity would be the key to the nuclear industry's competitiveness. The OECD/NEA director-general then said that nuclear energy would face "a new world different from the past." He concluded by saying that it would be necessary to reinforce innovation promotion efforts further and to create collaborative systems.
On the same day, Magwood was also invited to a meeting on fast reactor development at the Agency for Natural Resources & Energy (ANRE), under Japan's Ministry of Economy, Trade and Industry (METI), to offer his views.