22 February, 2017
Ohi-3 and -4 Effectively Clear Safety Examinations
On February 22, the Nuclear Regulation Authority (NRA) approved review report drafts confirming that the Ohi-3 and -4 Nuclear Power Plants (PWRs, 1180MWe each) in Fukui Prefecture, owned and operated by the Kansai Electric Power Co. (Kansai EP), are compatible with the new regulatory standards. They will be officially approved after a period for public comments.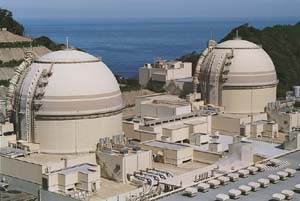 Kansai EP will complete work in May on various safety measures, including constructing walls to protect seawater pumps, available to cool the reactors in emergencies, from tsunami. Actual restarts of the units will follow various procedures, including inspections by the NRA of equipment/facilities and the obtaining of consents from the prefecture and local municipality. Kansai EP hopes to restart the units as early as this autumn.
Kansai EP filed applications with the NRA for safety examinations for the Ohi-3 and -4 NPPs in July 2013, when the new regulatory standards were issued. It took time, however, for Kansai EP to determine standard ground motion (Ss) (standard ground motion for aseismic design) – the greatest hurdle – and the examinations were much delayed.
Then, in June 2016, Kunihiko Shimazaki, former acting NRA chairman, who once led examinations of earthquake measures, made a great fuss, saying he suspected standard ground motion (Ss) at the Ohi NPPs had been underestimated. After a re-examination, the NRA determined that there was "no problem with the examinations and no another revision of Ss was necessary."