28 March, 2017
Osaka High Court Lifts Injunction Against Operation of Takahama-3 and -4
On March 28, the Osaka High Court, ruling on an objection by the Kansai Electric Power Co. (Kansai EP) to the temporary injunction issued in March 2016 by the Otsu District Court halting operation of the Takahama-3 and -4 Nuclear Power Plants (PWRs, 870MWe each), in Takahama Town, Fukui Prefecture, accepted the arguments of Kansai EP and lifted the injunction.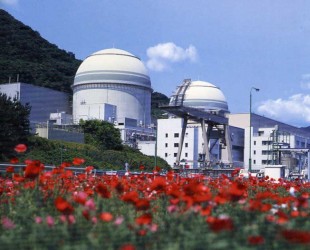 The company had cited compliance of the two units with the new regulatory standards as determined by the Nuclear Regulation Authority (NRA), its countermeasures against successive earthquakes and tsunami, and the appropriateness of evacuation plans by local municipalities. With the lifting, both units may be legally operated again.
In the hearing on Kansai EP's appeal of the lower court's decision, local residents asserted that the value for standard ground motion (Ss) established by Kansai EP could not secure safety. They also said the evacuation plans made by the municipalities were not in accordance with established international standards.
Kansai EP argued that its standard ground motion (Ss) was based on results of precise geological investigations and that important facilities had sufficient seismic safety margins. Regarding the municipalities' evacuation plans, the company asserted that the plans are effective and reasonable, have the positive support of the government, and are based on experiences from the accident at the Fukushima Daiichi NPPs. Emergency responses, including evacuation plans, in the Takahama area were confirmed at the national government's Disaster Management Council to be specific and rational, and were approved.
In anticipation of lengthy legal proceeding, Kansai EP removed the nuclear fuel from both reactors last August and September.