12 February, 2020
Registration Opens for the 53rd JAIF Annual Conference
JAIF is pleased to announce that the registration for the 53rd Annual Conference (AC) has officially opened.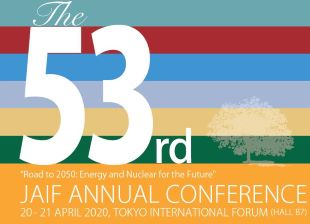 This year's AC, titled "Road to 2050: Energy and Nuclear for the Future", will be held at the Tokyo International Forum on April 20-21.
Featuring a star-studded lineup including the 2019 Nobel Prize (chemistry) winner Akira Yoshino, famous Japanese historian/writer Kozo Kaku as well as award-winning Japanese music artist KOTOMEN, this year's AC will be one of the most anticipated in recent years.
Don't miss out the chance to attend the flagship event of the Japanese nuclear industry in this Tokyo Olympic year by registering today at https://www.jaif.or.jp/53rd-annual/en/registration/. The registration deadline is Friday, April 10.
Participation Fee:
JAIF Members: JPY 51,000 / Non JAIF Members: JPY 102,000
(incl. tax and April 20 dinner reception)
*To encourage active participation among diverse groups, each paid participant from any JAIF member companies is entitled to COMPLIMENTARY registration of up to two young (under 36) or female colleagues (excl. dinner reception).
Inquiries:
JAIF Department of International Affairs
Tel: +81-3-6256-9313
Email: 53rd-annual@jaif.or.jp