2 May, 2016
Restarting Test and Research Reactors and Operating Them Safely
Review reports for the Kyoto University Critical Assembly (KUCA) and Kindai University's nuclear reactor are expected to be finalized soon. They mark the first instances in which Japan's new regulatory standards are being applied to test and research reactors. I want to pay my respects to both the Nuclear Regulation Authority (NRA) of Japan and the operators of the reactors for their efforts.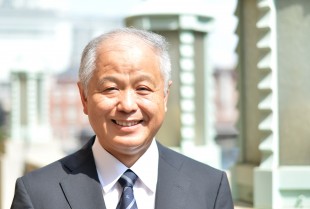 More Efficient Examinations
There are six other such reactors currently being examined. The early restart of these reactors is keenly hoped for, for the sake of such matters as safety improvements, the development of new types of reactors, R&D using neutrons, and human resource development.
In spite of the scale of their outputs—KUCA is 100W and the Kindai University reactor is 1W—it took a year and a half to examine them, and the reactors have been out of operation for more than two years.
Understanding the difficulties, both in developing guidelines enabling standardized examination procedures and in making appropriate rules, because specifications and scales are so different from one research reactor to another, I nevertheless hope, based on the experience this time, that the examinations will be carried out more smoothly though efforts on the side of the regulator, operators and other involved parties, such as using a graded approach.
Operation with Assured Systems
When operating test and research reactors, all facilities' operators are urged to ensure safety via assured systems so as not to interfere with education, research and the like.
Given that most research and test reactors in the country have already been in operation for four to five decades, it is inevitable, even if they clear safety examinations, that appropriate maintenance and renewal will be carried out on them—not only on the reactors themselves, but on related facilities and equipment as well—for the sake of stable operations into the future.
In recent years, moreover, the importance of security aspects—in addition to safety—has become increasingly clear, requiring commensurate numbers of workers and procedures.
Operators will have to do their utmost to operate their reactors smoothly when properly facing related issues with limited resources, while also being prepared for contingencies. At the same time, shortages in human resources or funding must be avoided that might hinder educational and research activities.
The stable operation of test and research reactors is essential for Japan's nuclear research, development and usage. In that respect, the government is urged to better understand the actual circumstances of their operation and issues, and to provide the necessary assistance.
Understanding the Full Importance of Research and Test Reactors
In order for Japan, as a global leader in science and technology, to lead the world in use of nuclear energy as well, it is essential to carry out ongoing R&D assiduously with test and research reactors.
Nuclear R&D activities must be expanded to create an attractive environment for the operation and management of nuclear power plants (NPPs), and to ensure the development of nuclear personnel for future decommissioning and the like. In addition, newly emerging nuclear nations expect a great deal from Japan in the field of human resources as well as technological aspects.
For that to happen, also, operation of test and research reactors is a must, so that young engineers and technicians—including those from other countries—will be able to learn under conditions of "constructive tension" using actual facilities in operation.
We at the Japan Atomic Industrial Forum (JAIF) will cooperate with concerned parties toward the early restart of test and research reactors in Japan and their safe operation. We will also work to ensure and develop nuclear human resources via our activities connecting industry, government, and academia through the Japan Nuclear Human Resource Development Network (JN-HRD Net).
Akio Takahashi, President, JAIF