28 November, 2019
RIKEN Unveils Transportable Compact Neutron Source System
On November 26, Japan's RIKEN made a demonstration of its RIKEN Accelerator-Driven Compact Neutron Source System (RANS-II) to the press. The system will be used in a wide range of areas, including the diagnosis of the deterioration of concrete infrastructure and the analysis of raw materials and products at factories.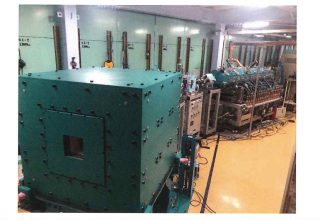 Currently, neutron sources used for industrial purposes include the Japan Proton Accelerator Research Center (J-PARC) and the Japan Research Reactor No. 3 (JRR-3). In cooperation with industry, RIKEN has been working to develop a transportable neutron source system. In 2013, it succeeded in visualizing internal steel corrosion nondestructively using a compact neutron-driven system (RANS). Later, in 2016, it developed technology to see internal damage in concrete, and two years later, it created technology to measure salt in concrete nondestructively.
With the RANS-II released this time, RIKEN, by downsizing the aforementioned RANS, has successfully halved both the length and weight of the previous system by reducing the proton beam energy from the linear accelerator from 7MeV to 2.49 MeV, and by using one accelerator—referred to as a radio-frequency quadrupole accelerator (RFQ accelerator)—instead of linking two accelerators. Additionally, the size of the shielding body was substantially reduced to one-seventh or so.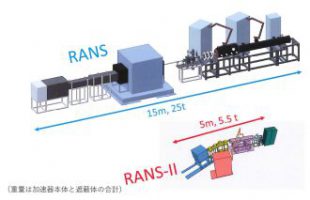 In the future, RIKEN will try to realize a prototype of an outdoor measuring system that is transportable and nondestructive, and which is capable of visualizing the internal deterioration of bridge structures and the like. At the same time, it aims to develop a fixed accelerator-driven compact neutron source system that will be readily adopted at work sites.
Speaking to the press on November 26, members of the Neutron Beam Technology Team of the RIKEN Center for Advanced Photonics (RAP), engaged in the development of the system, referred to a bridge collapse involving casualties at a fishing port in Taiwan last month. They emphasized that the use of neutron systems is an effective means to maintain and repair infrastructure susceptible to age deterioration and construction failure, adding that the penetration of moisture and salt into concrete and the corrosion of reinforcements were particular concerns.
Across Japan, the deterioration is steadily progressing of infrastructure that was developed and built in and after the period of high economic growth from 1954 to 1973. According to the latest White Paper from the Ministry of Land, Infrastructure, Transport and Tourism, around 25 percent of road bridges (measuring 2m or longer) in the country were more than fifty years old at the end of FY17, a percentage that is predicted to grow to 39 percent at the end of FY22 and 63 percent at the end of FY32. Similar figures for harbor quay walls are approximately 17 percent at the end of FY17, 32 percent at the end of FY22, and 58 percent at the end of FY32. Scheduling maintenance, management and renewal are thus pressing needs.