31 January, 2017
Robot to Be Used to Investigate Interior of Fukushima Daiichi-2 Reactor Containment Vessel
On January 26, the Tokyo Electric Power Co. (TEPCO) released a report on the progress of decommissioning at its Fukushima Daiichi Nuclear Power Plants. Work is underway at Unit 2 there using a self-propelled robot to obtain data from the inside of the reactor containment vessel, before the actual removal of fuel debris.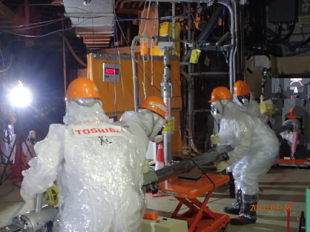 The self-propelled robot, made by Toshiba Corporation, measures 54cm long, 9cm wide and 9cm high, and is equipped with a radiation dosimeter and thermometer. It can be remotely controlled via a wire cable. In the central area of the containment vessel, an assembly of LED lights at the back of the robot can be turned up like the tail of a scorpion, pointing forward to light a wider area for the camera.
On January 26, a preliminary investigation was conducted using a guide pipe with a camera installed at its tip, following work to make a hole one month earlier on December 23 and 24. Thus far, it has been confirmed that no obstacles exist to the robot's operating in the area around the opening, where the preliminary investigation has just started.
TEPCO plans to continue the preliminary investigation, using a spatula-like device to remove any obstacles found to ensure a clear path for the robot.