27 March, 2019
Start of Olympic Torch Relay at J-Village Is Message to World, Fukushima Governor Says
At a press conference on March 25, Governor Masao Uchibori of Fukushima Prefecture expressed his delight that the grand start of the torch relay for the 2020 Tokyo Summer Olympics would be in J-Village, an important symbol of the restoration of Fukushima.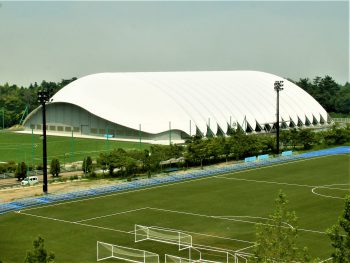 The Olympic flame, to be transferred to a torch in Greece next March, will make its way to Japan and be exhibited in turn as a "flame of reconstruction" in the last part of the same month in the three prefectures most affected by the giant earthquake that struck the country on March 11, 2011.
On March 26, 2020, the relaying of the torch will begin at J-Village, starting the journey toward its final destination in Tokyo, where the Olympic opening ceremony will be held on July 24.
Governor Uchibori said, " As the runners carry the torch through the prefecture, people will see the areas where restoration is proceeding, as well as other areas still confronting difficult issues. It will help the world become more aware of the lesson that a nuclear accident must never happen again, and the need for preparedness and the mitigation of any natural disaster."
In the aftermath of the disaster, J-Village was used as a base for stabilizing the Fukushima Daiichi nuclear power plants (NPPs), so that workers could perform such actions as donning and removing protective clothing and various equipment.
Partially reopened as a sports facility in July 2018, it will be fully reopened on April 20 of this year, restored and featuring new developments.