26 December, 2018
Strategic Road Map for Fast Reactor Development Finalized, with METI Minister Seko Urging Consistent, Continuous Efforts
On December 20, the Council on Fast Reactor Development, chaired by Minister Hiroshige Seko of Economy, Trade and Industry (METI), held a meeting at which a strategic road map was approved specifying a development plan for fast reactors during the coming decade. The draft of the road map had been issued two days earlier by the council's working group (photo). The road map will soon be referred to a ministerial meeting on nuclear energy.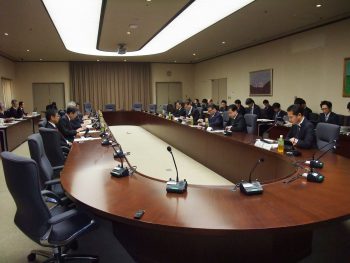 Also present at the meeting were Minister Masahiko Shibayama of the Ministry of Education, Culture, Sports, Science and Technology (MEXT), President Toshio Kodama of the Japan Atomic Energy Agency (JAEA), Chairman Satoru Katsuno of the Federation of Electric Power Companies (FEPC), and President Shunichi Miyanaga of Mitsubishi Heavy Industries (MHI).
MHI President Miyanaga commented that his company, a manufacturer, would contribute in the areas of technology and human resources, saying, "We will develop fast reactors through innovation while not forgetting what has already been proven in our experience with sodium-cooled reactors."
He then asked the government to create a system to provide appropriate-scale financial support and/or incentives for technological development.
At the meeting, JAEA President Kodama emphasized that his organization would maintain and make further use of various research facilities, including the experimental reactor Joyo, while promoting the development of human resources to cope with the many challenges.
Meanwhile, FEPC President Katsuno emphasized the need to carry out technological development "with flexibility," saying that doing so would provide a powerful option that could overcome power-source restrictions over the long term.
MEXT Minister Shibayama replied by saying, "First of all, MEXT will work on human resource development and the maintenance of R&D infrastructure."
In response, METI Minister Seko said, "Fast reactor development is an important project in dealing with the energy issues that Japan faces." He said that he hoped that all parties would "steadily perform" their roles.