24 July, 2017
Submersible Robot Finds Severe Damage Inside Unit 3 PCV
At a press conference on July 19, Tokyo Electric Power Co.(TEPCO) announced that the submersible robots had successfully obtained images of the interior of the primary containment vessel (PCV) of Unit 3 at the Fukushima Daiichi Nuclear Power Plants.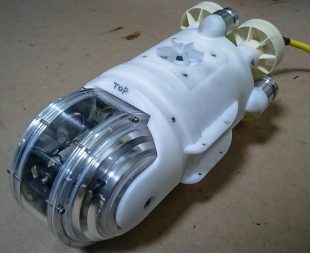 TEPCO also said that the power company had confirmed severe damage in several structures that had fallen. Within the range of that investigation, it could not identify any melted nuclear fuel debris, although specific conditions of the PCV interior at Unit 3 were ascertained for the first time.
The interior of the PCV at Unit 3 contains a pool of water, originally used to cool the reactor, that has accumulated to a height of about 6.4m from the bottom. A submersible robot, made by Toshiba Corporation, obtained images of the area below the reactor pressure vessel.
Staff members began preparing for the investigation at 4:30 a.m. on July 19. Two hours later, they inserted the cylindrical robot—some 13cm in diameter and 30cm long—into the PCV through a pipe at the point of penetration. They controlled the robot remotely with a cable, and completed the investigation at 11:00 a.m. or so. The robot experienced radiation levels of about 2Sv, much lower than its designed capacity of about 200Sv.
Although the robot could not find a metal working platform that should have been there, it did detect that a structure had seemingly dropped below. A fallen metal lattice and exposed metal cables were also found around the control rod drive mechanism (CRDM) at the bottom of the pressure vessel.
As for the area just below the reactor pressure vessel, TEPCO said that "the damage is clearly more severe" than at Unit 2, something also evident from previous investigations. TEPCO also indicated its belief that the fuel debris and melted metal structures had fallen from the pressure vessel, causing the damage.
As the robot moved in the water, it noticed suspended matter that was drifting. The structures, when illuminated by a spotlight, were colored ocher and looked rusty.
TEPCO's investigations of the PCV interiors of Units 1 and 2—conducted earlier this year (from January to March)—had used self-propelled, scorpion-like robots as well as other types of robots. It was unable to identify any fuel debris directly.
Based on the video images obtained this time, TEPCO planned another investigation for July 21. It wants to manipulate the robot to search the bottom of the PCV, where fuel debris is believed to lie.