27 April, 2020
Superconducting-Coil Tokamak Plasma Test Device (JT-60SA) Installed at Naka Fusion Institute, with Plasma Generation to Begin in Autumn
On April 22, the assembly was completed of the JT-60SA, a superconducting-coil tokamak plasma test device, at the Naka Fusion Institute in Naka City, Ibaraki Prefecture. The facility is part of the National Institute for Quantum and Radiological Science and Technology (QST).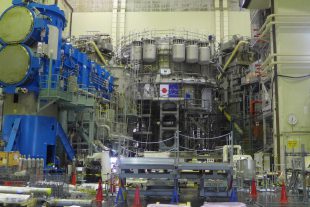 The JT60-SA project is part of broader approach (BA) activities between Japan and Europe in support of the International Thermonuclear Experimental Reactor (ITER) Project. Work began in 2007 with the start of modifications to the previous JT-60 experimental device, and assembly of the JT-60SA began in 2013.
In May 2019, members of the press watched the installation of the central solenoid—the core of the superconducting-coil tokamak plasma test device—which measures two meters in diameter and seven meters high, and weighs about one hundred tons.
A tokamak confines plasma in a doughnut-shaped torodial field (TF) to produce controlled nuclear fusion. In 2006, the plasma confinement at the JT-60 was sustained for 28 seconds—a world record—at the high temperatures and pressures required for ITER.
Based on that success, the JT-60SA test device was installed at about half the scale of ITER, under the Satellite Tokamak Project and the Domestic Prioritized Tokamak Devices Project, toward obtaining further information for the ITER Project. The three objectives of the device are as follows:
Conducting R&D toward economic and environmental compatibility.
Providing scientific information to ITER.
Developing human resources to lead ITER research.
From now on, the cooling system for the super-conducting coil and other components and equipment at the JT-60SA will be individually checked for soundness, after which they will be activated. Sometime this autumn, the first plasma is to be generated as comprehensive test operations begin.
With the signing of a joint statement at the European Commission Headquarters last month, the broader approach activities between Japan and Europe entered Phase II, toward the start of ITER operation in FY24 (April 2024 to March 2025).
Phase II comprises three projects: the Satellite Tokamak Programme, the Engineering Validation and Engineering Design Activities for the International Fusion Materials Irradiation Facility (IFMIF/EVEDA), and the International Fusion Energy Research Center (IFERC). Phase I, which started in June 2007, had run until last month.