6 February, 2015
TEPCO Carries Out Safety Inspections after Fatal Accidents
On February 2, the Tokyo Electric Power Co. (TEPCO) completed and released a report on the causes of the accidents resulting in death and injury that occurred recently at its nuclear power plants, and on its measures to improve safety.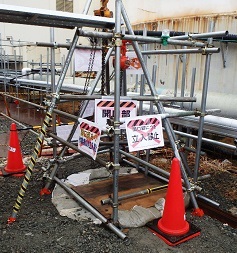 On January 19, a worker installing a water tank at the Fukushima Daiichi Nuclear Power Station (NPS) fell 10m from the top of the tank (empty at the time) into it. On January 20, a worker inspecting equipment at the Fukushima Daini NPS had his head caught between a piece of scaffolding and a 700-kg piece of moving equipment. Both men died.
At TEPCO's Kashiwazaki Kariwa NPS, meanwhile, an accident occurred on January 19 in which a worker received an injury that needs as long as three months to heal.
Reacting to the three successive accidents, TEPCO suspended work at the three NPSs and has carried out or begun the five following actions, the results upon which it will take action to improve safety:
Safety inspections.
Reinforcements of safety awareness (case studies).
Review of the accident sites by top management, including management of contractors.
Thorough investigations into the causes of the accidents.
Review of past accidental deaths at the Fukushima Daiichi NPS.
After analysis, the causes of the three accidents were divided into direct ones and indirect ones, with measures for each being issued. Looking back at the past — particularly in the case of the Fukushima Daiichi NPS — the main issues seem to have been (a) insufficient effort to eradicate accidents, (b) weakness in utilizing lessons from past problems and in horizontal development, and (c) insufficient capability to eradicate accidents resulting in death and injury.
TEPCO will develop necessary measures and endeavor to prevent accidents in the future.
On February 3, Chairman Dale Klein of TEPCO's external Nuclear Reform Monitoring Committee (former chairman of the U.S. Nuclear Regulatory Commission) made several comments in an interview on the series of accidents.
He noted especially that these were "industrial accidents, not radiation accidents," adding that TEPCO needs to reinforce to all their workers that "schedule is not important, safety is important."
He also said that "the activities for Fukushima Daiichi cleanup are the hard work of a lot of people." Returning to safety culture, he emphasized the importance of top management's involvement.
Work Resumes at Fukushima Daiichi NPS
Following the accidental death at the Fukushima Daiichi NPS on January 19, TEPCO carried out a safety inspection at the station. After taking such actions as confirming procedures and adding off-limits indications to danger zones, the power company said it would begin to gradually resume work on February 3.
TEPCO will do its utmost to secure safety at work sites and to prevent the occurrence of similar accidents by checking more than 400 points subject to safety inspection, and taking necessary actions to reinforce safety measures, while gradually resuming work.