15 February, 2019
TEPCO Makes Contact with Debris at Fukushima Daiichi-2
On February 14, the Tokyo Electric Power Co. (TEPCO) released a video showing a device with two "fingers" at the end lifting pebble-shaped deposits suspected of being melted nuclear fuel (debris) at the bottom of a reactor primary containment vessel (PCV). The recording was made during an investigation undertaken on the 13th at the Fukushima Daiichi-2 Nuclear Power Plant (BWR, 784MWe). The pebble deposits, shown clearly, were of different shapes and sizes. Of the ten locations where the device made contact with them, they could not be moved at three.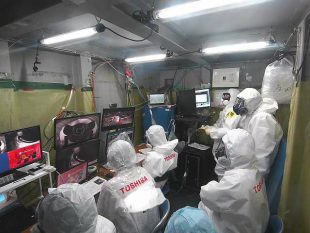 The deposits that could not be moved appeared to be in a state like lava. The limited range of the investigation showed them to most likely be debris that had become affixed and hardened. It is now deemed necessary to develop a new device that can scape or cut them off for removal.
On February 13, TEPCO announced that it had moved deposits at five out of six locations at the PCV bottom. It also succeeded in touching deposits at four spots on the grid of the working scaffold approximately four meters above the PCV bottom, and at two of those spots the pebble-shaped deposits were moved, it said.
The fingers of the device can be opened and closed like a tongs, up to about eight centimeters, and lift an object of up to about two kilograms. This time, the device picked up pebble-shaped lump and rod-like structures of one to eight centimeters, their weights unknown.
For the investigation, the device was hung by a cable from an pipe, and lowered to the bottom of the PCV from a portion of the scaffold that had fallen to the lower part of the PCV. Because the device successfully lifted the deposits, TEPCO believes it is possible to remove them from the PCV.