20 March, 2015
TEPCO to Dismantle Building Cover at Fukushima Daiichi-1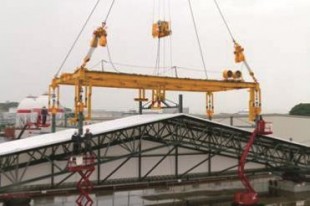 On March 16, the Tokyo Electric Power Co. (TEPCO) started preparatory work toward dismantling the reactor building cover at Unit 1 of the Fukushima Daiichi Nuclear Power Station. The work will allow the eventual removal of spent fuel.
Over the coming month or so, preparations will be made for the installation of such equipment as a material-position detection system, a 750-ton crawler crane, a system to spray an agent to prevent radioactive materials from scattering, and another system to remove roof panels (see photo). Holes will then be made in the roof panels to spray the scatter-prevention agent, after which the panels will start to be removed.
TEPCO also released a schedule for major countermeasures for purifying and treating contaminated water. Some 600,000 tons of water in the tanks will be fully treated by May, excluding that which was contaminated when the accident first broke out.
It is also expected that an effective dose of less than 1mSv/y will be achieved at the boundaries of the Fukushima Daiichi site by the end of this month.
As far as improving the working environment is concerned, TEPCO will complete a supply center for meals later this month, and a big rest facility in May. Places for eating will be established gradually, starting next month.