9 April, 2015
TEPCO to Use Robot to Investigate Containment Vessel at Fukushima Daiichi
On April 6, the Tokyo Electric Power Co. (TEPCO) announced that it would conduct an investigation on April 10 of the interior of the Unit 1 reactor containment vessel at its Fukushima Daiichi Nuclear Power Station, using a robot.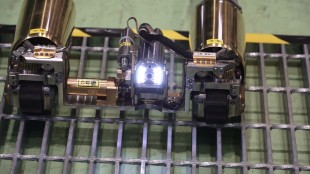 Nuclear fuel is known to have melted inside Units 1 through 3, and this will be the first time a robot will be sent to examine the inside of a containment vessel (CV).
The investigation will be conducted on the first floor of the CV to ascertain conditions there before investigating the state of the melted fuel (fuel debris) in the first basement.
A robot, so-called "shape-shifting robot", will enter the CV through a pipe 10cm in diameter during penetration of the vessel. Crossing the floor of the first story, the robot will measure radiation levels and temperatures. It will also take videos along the route to the basement using a camera that can be pointed up, down, right and left.
Atoms in Japan explains the robot in more detail in the following site (click here).
A total of 43 workers will participate in the investigation, remotely controlling the robot from an area where the radiation level is low. When TEPCO first inserted measuring instruments into the Unit 1 CV about two and a half years ago, radiation levels up to about 11Sv/h were found — quite high.
The first basement of the CV includes 2.4m to 3.2m deep accumulations of highly radioactive water. In the future, the robot will have to be improved prior to investigating the first basement floor.