25 January, 2017
Toward Resumption of Full-scale Fisheries Operations
On January 23, a meeting was held in Iwaki City, Fukushima Prefecture, by people involved in the fisheries industry in the prefecture to discuss the restoration of fishing operations that have been halted or restricted since the March 2011 tsunami-related accident at the Fukushima Daiichi Nuclear Power Plants.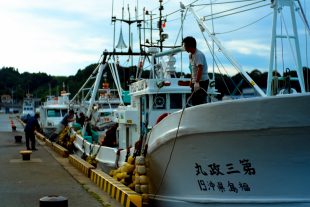 At the meeting, various proposals were made of such things as: (1) continuing the test operations being carried out offshore, (2) making it easier for consumers to understand presentations of the fish and shellfish subject to test operations, and (3) gradually restarting auctions (which are still suspended).
A total of twenty people attended the meeting—heads of fisheries cooperatives in the prefecture, local administrators dealing with the industry, and outside experts and specialists—to discuss the best way to conduct test operations toward completely restoring the fisheries to the way they were before the accident.
A representative of the Fukushima Federation of Fisheries Cooperatives made a proposal to simplify the way seafood is presented to make it more easily understood by consumers, given that the government-imposed restrictions on seafood distribution are being steadily eased. The idea is to replace the current method of listing each fish and shellfish subject to test operations with the approach of "all seafood except …," that is, individually identifying only those fish and shellfish whose distribution continues to be restricted.
Meanwhile, a representative from the Soma-Futaba Fisheries Cooperative proposed a change to the method of selling fish that were caught. Currently, in order to prevent any fish from being left unsold, a local wholesale and brokerage association has been purchasing them all. The proposal is that the method be partially changed starting this spring, and to reintroduce auctions and bidding by individual traders on a trial basis.
The meeting will consider these proposals, with the hope of resuming full-scale fisheries operations soon.