8 October, 2015
Toward the Restart of Ikata-3, Prime Minister Abe Stresses Government Responsibility in Nuclear Disasters
At an October 6 meeting of Japan's Nuclear Emergency Council, headed by Prime Minister Shinzo Abe, a report was presented on emergency responses in the region surrounding the Ikata Nuclear Power Plants, owned and operated by the Shikoku Electric Power Co. Another report was also presented on a nuclear disaster prevention drill to be carried out at the same facility later this year. Governor Tokihiro Nakamura of Ehime Prefecture also attended the meeting.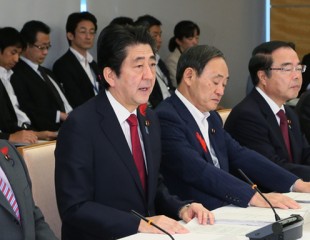 The prime minister said that the government had a major responsibility to protect people's lives and property in case of a disastrous accident at a nuclear power plant, adding that it would deal with it "responsibly." He asked the governor to understand and cooperate with the national government's policy of promoting the restart of the Ikata-3 (PWR, 890MWe), while obtaining understanding from the local community.
Earlier, on July 21, after the Nuclear Regulation Authority of Japan (NRA) granted approval for changing the reactor installation at the Ikata-3, the governor met Yoichi Miyazawa, head of the Ministry of Economy, Trade and Industry (METI), presenting an eight-item request to the government.
The items included measures for the evacuation of residents, additional safety measures, and the resolution of spent fuel issues. In addition, the governor asked the prime minister to speak to him "directly" as he has the "ultimate responsibility."