20 March, 2015
Unmanned Robot Works in Complicated Environments and Disaster Sites
On March 13, Waseda University's Next Generation Robot Research Institute, headed by Professor Masakatsu Fujie, demonstrated a small working robot named "Octopus," jointly developed with Kikuchi Seisakusho Co., Ltd.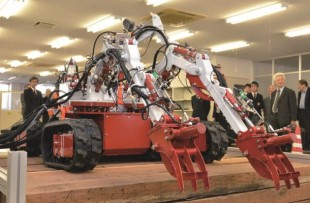 The robot was developed at the company's plant in Minami-Soma in Fukushima Prefecture, an area still partially under an evacuation order after the accident occurred in March 2011 at the Fukushima Daiichi Nuclear Power Station.
Comprising a pedestal, four arms and six crawlers, the robot is expected to be useful in rescuing people and removing debris in difficult conditions, such as complicated terrain and narrow spaces at disaster sites.
Named for the octopus with its eight arms, the Octopus is 1.7m tall and weighs 700kg. It can be equipped with a fiber laser for cutting rocks, and is able to hold debris, waste and the like.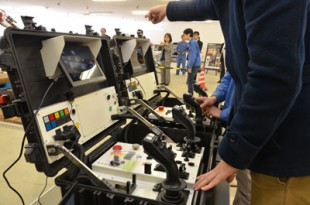 The robot was developed for a wide range of purposes, such as rescuing people from buildings destroyed by earthquakes, tsunamis and eruptions, and in the decommissioning of nuclear power plants. It can move and use its four arms simultaneously in ways that are still unusual among such devices.
Currently, two people are needed to remotely control the Octopus, but one will suffice in the future.