14 September, 2015
Upon the Start of Subdrain Operations at the Fukushima Daiichi Nuclear Power Station: Information Disclosure on Safety, Assured Reliable Operation, and Reassuring the Public
Treated groundwater was released into the sea today in accordance with the "subdrain plan" at the Fukushima Daiichi Nuclear Power Station (NPS). This was a great step forward in dealing with the problem of contaminated water.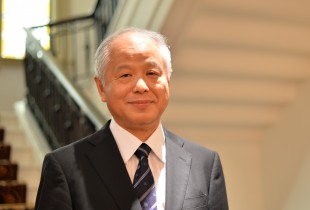 Following TEPCO's already-implemented groundwater bypass actions, the subdrain plan is a highly promising step in the struggle with contaminated water. I want to again thank the large numbers of local people, including those concerned with the fisheries industry, for their understanding and cooperation.
Under this plan, groundwater in subdrains (wells) installed around the nuclear reactor and turbine buildings will be pumped up and treated. The water will be released after the concentrations of radioactive materials are ascertained to be within prescribed limits. By that operation, the 300 tons of groundwater currently flowing into the buildings each day is expected to be halved.
In carrying out the plan, continued strict management will be essential to prevent water accumulated in the buildings from leaking outside. That will include thorough management of the water levels of the highly-radioactive water accumulated in the buildings, and of the groundwater.
TEPCO and a third-party organization will analyze the concentrations of the radioactive materials in the treated groundwater and ascertain that they are below operational targets before the power utility releases the water into the sea.
The operational targets are even stricter than those set for the groundwater bypass; namely, they are one-tenth or less the Japanese national regulatory concentrations, and one-tenth indicated by the World Health Organization (WHO) as acceptable for drinking water in its guidelines.
Not only in Japan but also other countries, especially those nearby, people are still concerned about oceanic contamination and the quality of marine products as a result of the accident.
Along with numerical values from the analyses, the status of releases and concentrations of radioactive materials in offshore waters, we must disseminate, via various channels, the fact that the management of the subdrain plan is "even more than safe," in order to reassure the concerned people.
We want TEPCO to fulfill its promises to relevant parties before implementing the plan, as well as to ensure sound management and operation, by continuing to disclose information.
Meanwhile, JAIF will continue its active dissemination of information in Japan and elsewhere on the progress of the decommissioning at the NPS, and how it deals the contaminated water, among other issues.
Akio Takahashi, President, JAIF