9 February, 2015
Using Muons to Investigate Fuel Debris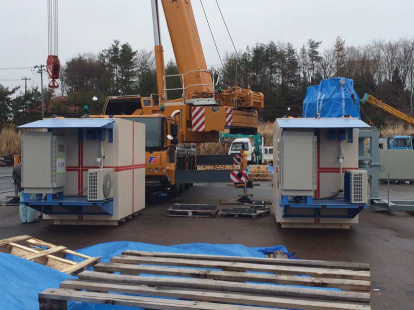 On January 29, the Agency for Natural Resources & Energy (ANRE), part of Ministry of Economy, Trade and Industry (METI), released a progress report on decommissioning work being carried out at the Fukushima Daiichi Nuclear Power Station.
In connection with the removal of spent fuel from the Unit 3 spent fuel pool, work was completed in December to remove the control console of a refueling machine from the pool that had been accidentally dropped last summer. Additional protective boards were installed during the period from January 14 to 20, as a preventive measure.
To determine the position of fuel debris in the Unit 1 reactor, TEPCO will undertake measurements using muon observation technology. Also known as the "muon permeation method," which uses cosmic ray muons, the technology has already had small-scale demonstration tests carried out.
The measuring equipment will be installed outside the reactor building on the northwest side. Measuring should begin in early February if all things go well.