7 June, 2017
Welcoming Diet Approval of the India-Japan Civilian Nuclear Agreement
Signed by the prime ministers of both countries in November 2016, the India-Japan Agreement for Cooperation in Peaceful Uses of Nuclear Energy was approved today by the Japanese Diet. We welcome this.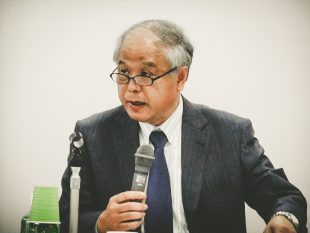 At JAIF's annual conference last April, Chairman and Managing Director Satish Kumar Sharma of the Nuclear Power Corporation of India Limited (NPCIL) praised and expressed his high hopes for Japanese technological abilities and craftsmanship in carrying out a proactive nuclear development program in his country.
With the agreement now coming into effect, it becomes possible for Japan to export – conditioned on peaceful use – high-level nuclear-related technologies and high-quality systems and equipment it has developed and refined over many years. In doing so, Japan will be making a contribution to improving the safety of nuclear power and to ensuring a stable supply of electricity in India. A shift in power sources will thus continue in India, where electricity generation so far depends mostly on coal-fired power plants. In this respect, Japan will also be contributing to reducing CO2 emissions.
Through continued efforts to cooperate with other countries and regions, including bilateral and multilateral efforts such as India-Japan cooperation, JAIF, for its part, seeks to continue to promote activities that contribute to resolving common issues, including the improvement of nuclear safety, as well as to the efforts of the Japanese nuclear industry to expand its business overseas.
Akio Takahashi, President, JAIF