Something had to be done for Fukushima. What could be done in the realm of agriculture? Thinking, then acting, Hiroshi Motoki, president of Wonder Farm, launched a business that would become a new hub of regional agriculture after the giant earthquake (known officially as the Great East Japan Earthquake) of March 2011. We asked him about it, as well as his thoughts for the future.
Large-Scale Tomato Cultivation: An Unexpected Turning Point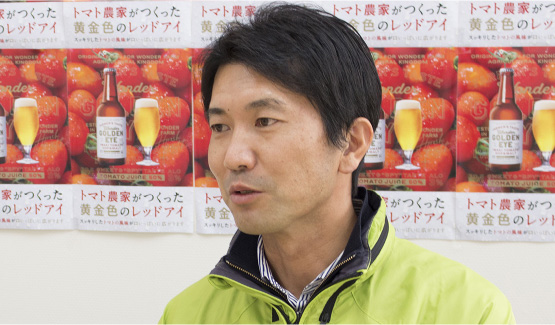 The skies are blue in Iwaki. The weather in Hama-Dori, Fukushima Prefecture, is fine on many days, even in winter.
"Sun is what matters most to tomatoes," said Motoki, 44, as he welcomed us with a smile at a corner of Mori-no Marché at Wonder Farm. In the store were processed foods such as tomato juice, tomato miso (paste), tomato dressing, and other local vegetables and foods, including gift sets of assorted colorful cherry tomatoes.
Motoki, from Okuma Town, Futaba-Gun, Fukushima, grew up in an ordinary white-collar family. He studied electrical- and electronic-systems engineering at the National Institute of Technology, Fukushima College, after which he joined the East Japan Railway Co. in Tokyo. Agriculture was the furthest thing from his mind.
On weekends, he returned to Fukushima, where he often enjoyed surfing at a nearby beach. "From the time I entered the company," he said, "I wanted to work in my hometown someday."
Tomatoes were his turning point. His wife's parents were farmers, primarily growing rice in Yotsukura Town, Iwaki City, but who wanted also to cultivate tomatoes on a large scale. Motoki was surprised when his father-in-law sounded him out about being named his successor, something that is required to incorporate the tomato business, something not commonly done in Japan at that time. Motoki then quit his railway company in 2002 and returned to Fukushima.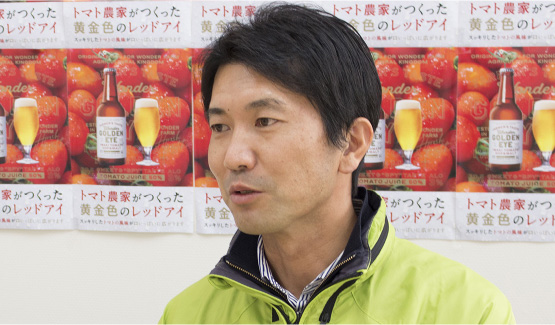 The two men worked on establishing an office and constructing greenhouses, and in 2003, launched the large-scale tomato farming operation known as Tomatoland Iwaki.
"It was a succession of failures," Motoki said. "I took the initiative, introducing Dutch-style equipment and facilities not yet seen in Japan, but I knew little about agriculture. Naturally, our harvests were disappointing."
Merely continuing to operate was difficult in those early years. It was only after four or five years that harvests began to approach the levels that had been planned. Then, just as it seemed they were going to turn the corner, the giant earthquake struck.
Looking Back at the Earthquake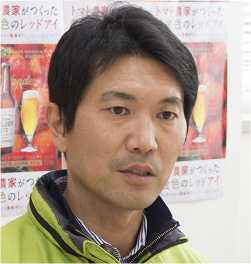 Damage was great. The frames of the greenhouses survived, but not the glass, and the heating pipes needed for the tomatoes were also destroyed. With the nearby nuclear accident, an evacuation order was given to the Hisanohama area, which is now the northern part of Iwaki City, and many residents in adjacent Yotsukura Town evacuated to other places voluntarily. Motoki and his father-in-law remained.
"We were single-minded. We wanted only to repair the greenhouses. We kept a radio nearby, listening to the news, and were ready to leave on a moment's notice."
Without heating, the tomatoes still grew well in the spring. But distribution functions had been completely suspended. Soon, reports of radioactivity issues began. Employees gradually returned, but just as they were ready to harvest, it all came to a halt, as the crop, they were told, would not be accepted. Radioactivity in the tomatoes measured 20Bq/kg at the highest—substantially less than the just-reviewed 100Bq/kg reference value for food. Nevertheless, the market would not accept them, and they could not ship. Eventually, as physical distribution was restored, they were able to ship within the prefecture. "We could sell them only at giveaway prices—for a song at JPY10 each—instead of the normal JPY60 or 80." They still could not send them to Tokyo, and ended up dumping several tons of tomatoes a day, all harvested from the huge facility.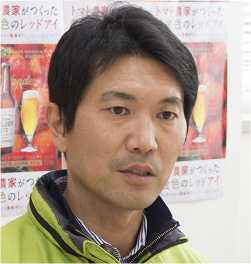 Fortunately, with the support of people nationwide, Tomatoland Iwaki weathered its storm. It still undergoes monthly inspections for radioactive materials, but suffers less from unfounded fears and rumors.
"Our buyers sometimes ask what kind of inspections we do and what the results are, and are generally satisfied with what we tell them. The questions rarely affect our deals anymore."
Birth of Wonder Farm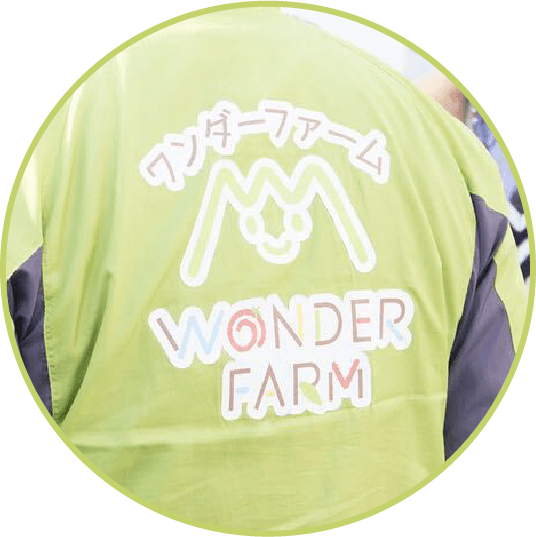 Seeing that it would be difficult for the company to survive on shipments of tomatoes alone, Tomatoland Iwaki was already making efforts to further commercialize them, making tomato juice, for example, from tomatoes that would otherwise be wasted.
The national government at that time was beginning to promote development of a "sixth industry," referring to the merging of agriculture, forestry, and fisheries (primary industry) with food processing (secondary industry) and distribution and marketing (tertiary industry) in order to add value to original products, including agricultural products. Agriculture, forestry, and fisheries would be revitalized, and the economies of those villages and towns would be enriched.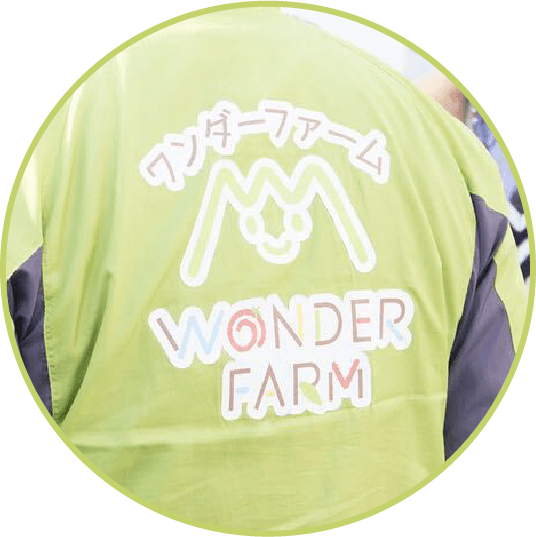 "We had to do something to restore Fukushima, whatever it was. We thought about what farmers could do. If we started a restaurant or a direct sales shop, it would be recognized relatively easily as a 'sixth industry.' We would be able to help local agriculture and make use of our own tomatoes, and that is how the Wonder Farm vision emerged. We were totally absorbed."
In April 2013, the Wonder Farm Inc. was incorporated, with Tomatoland Iwaki as its parent company.
Three years later, in the spring of 2016, Mori-no Marché (a direct sales shop), Mori-no Kitchen (a buffet style restaurant) and Mori-no Aguri Kobo (an agricultural food processing plant) were completed on extensive premises in Yotsukura Town, Iwaki City. That was the start of Wonder Farm, highlighting the diverse aspects of agriculture and foods, where people could broaden their understanding and appreciation . . . hands-on.
In 2016, the first year, Wonder Farm saw approximately 200,000 visitors. Sixty to seventy percent were from the prefecture, but the number of those arriving long-distance on tour buses to eat at the restaurant increased steadily. The entire farm has become a key tourist attraction in Hama-Dori because people can enjoy harvesting their own tomatoes, shopping at the direct sales shop, and more.
The Restaurant as a Place Linking Local and Urban Communities
Wonder Farm had been doing well when it was damaged by Typhoon No. 19 in October 2019. Then came the COVID-19 pandemic in 2020. They decided to review the entirety of restaurant operations. It has been closed since last October, and is now working toward a renewal opening this coming April (2021).
The original buffet, which used an abundance of tomatoes and local vegetables, was popular. With the pandemic, however, when the restaurant reopens, service will be from an a la carte menu, and solid COVID-19 countermeasures will be in place. A friend of Motoki's runs several restaurants in Tokyo, some of which are now closed. Some of his employees, including chefs, will come to Fukushima. Everyone is trying to figure out how to survive the pandemic. Given the current business environment, for the renewal work, Motoki is thinking of seeking supporters via cloud funding.
"I reminded myself that I must convey the meaning of being here, and I determined to revitalize the Hama-Dori area through 'food' over the coming decade."
Local areas tend to be thought of as bases for food supply for Tokyo and other urban areas. In Hama-Dori, there are many good local seafood dishes, but, when it comes to agricultural products, including tomatoes and meat, Motoki thinks local food culture has not been adequately nurtured. Young chefs from Tokyo and local producers will work together to create a "place" linking the local and urban communities—beyond just a restaurant. Motoki told us of his plans for the future, saying that not only traditional local dishes but new menus using local vegetables would be created, and that better ways to enjoy them would be offered.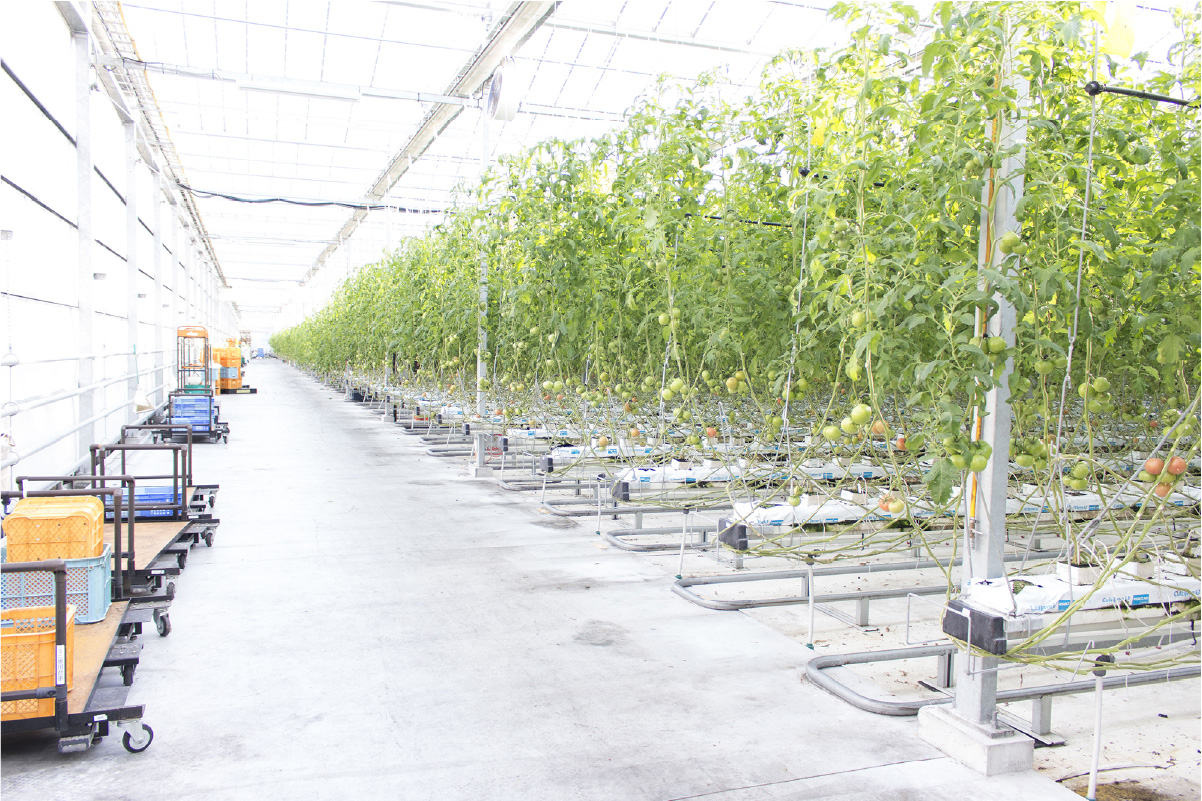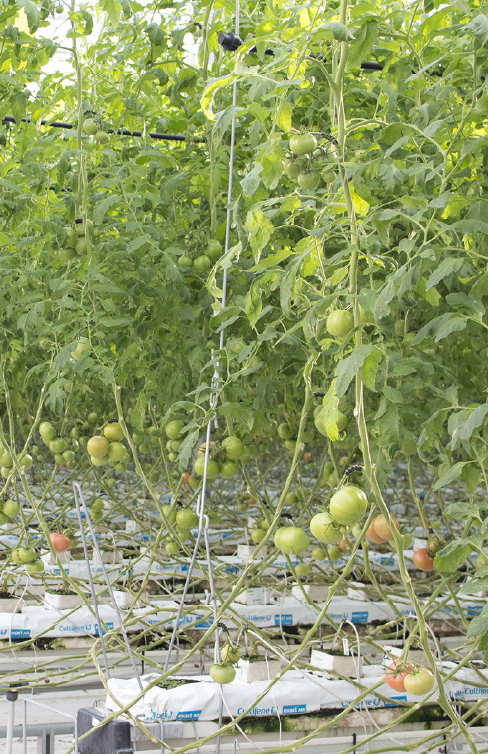 Future of Agriculture in Fukushima
When Motoki returned to Fukushima to pursue agriculture, a "quick return" ethic was prevalent, including an expansion of the scale of businesses toward mass production. Inspired by Tomatoland Iwaki, the number of tomato farmers grew, making Iwaki City a leading tomato-producing area of the prefecture. Production of tomatoes in Fukushima now ranks seventh in the country.
But simple mass production is no longer the story of the age. Increasing scale is not easy financially. What, then, should be done? Motoki does not have the answer. He is searching for one, by trial and error. Most specifically, he wants to elevate the value of each tomato, through processing and branding, increasing their use in restaurants and nutritional supplements.
The number of farmers in Fukushima fell by 20 percent in the first five years after the earthquake. But various challenges — especially the aging of the farmers and the lack of successors — were present before the earthquake, too. Motoki recognizes that the decline would have continued even without the disaster. Yet the situation is different now from a decade ago. New people are taking up farming in Fukushima Prefecture: more than two hundred annually for the past six years. More and more people who were engaged in other fields are now coming home to engage in agriculture.
Wonder Farm actively recruits younger people, with about a hundred current employees, including part-timers. Some changed jobs and had no prior experience with farming, while others are graduates of the Fukushima Iwaki Agricultural High School. "We want to nurture, even if just a little bit, those who can handle the tasks of farming."
Drawing Visitors to Hama-Dori
A full decade has now passed since the earthquake. The total number of visitors to the prefecture is climbing, though visitors to Hama-Dori are only 70 percent of what they used to be before the earthquake. While that is to be expected — given that there remains an area in the prefecture "where residents will not be able to return home for a long time" and also that, where evacuation orders have been lifted, municipal populations have not fully recovered — the economy of Hama-Dori will not fully recover unless something more is done. Motoki is seriously concerned about that.
"There are people who share the same sense of challenge. National and prefectural governments have taken the initiative during the past decade. Now, we will have to make the coming decade our time, when we play the main role in reconstruction of the region. So, we have formed an organization [called HAMADOORI13]."
HAMADOORI13 came into being in October 2020. About thirty young people in their 20's to 40's working in thirteen municipalities in Hama-Dori gather and meet regularly.
"Toward the goal of attracting visitors, one of the themes I talk with my HAMADOORI13 comrades about is creating challenging opportunities for young people. We want to encourage people from outside the region, as well as those who were born here and returned, like me."
Wanting People to Come and Witness New Activities in Fukushima
For a time after the earthquake, media coverage was plentiful. People came as volunteers and some groups visited Wonder Farm each year. But as time passed, coverage decreased. Reconstruction of Fukushima is inevitably fading from people's minds.
"We are no longer in the phase of asking for support for restoration. Now, we want people to visit here and see that we have been creating new things and new activities."
Motoki said that he also wants the many companies that have supported the nuclear industry to do things now that could result in new businesses in Hama-Dori. There are many requests from companies to Wonder Farm for employee training. Motoki talks about his experiences and provides tours around the facility. "In that way—in whatever way—I want people to first come here and see the situation. I want not only us, but also visitors, to look back on the past decade, as it can give them all a chance to think together about what can be done for the coming decade."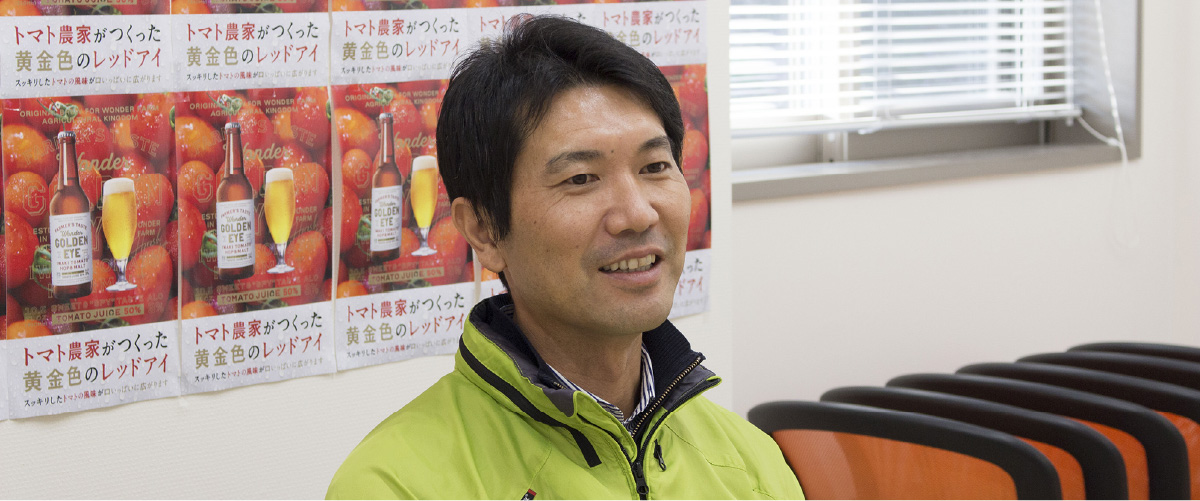 Continuing Challenges of the COVID-19 Pandemic
In current circumstances, when people are not able to travel readily, Wonder Farm will review its online shopping site this year to make it more competitive with those of major companies. "A platform will be created, and more information will be delivered to Wonder Farm fans," says Motoki.
The farm is also working on online farm tours. Tomatoes will be sent from Wonder Farm to each participant before a tour. Participants can join the tour with our tomatoes actually in front of them. Talks are also underway with travel agents for the eventual day when online tours can become in-person tours again.
There is no time to waste lamenting the pandemic. Doing what is possible now, including online tours, will lead to other post-COVID-19 possibilities. Referring to the plan to reopen the restaurant in April 2021, Motoki said he wanted it to serve as a trigger for revitalizing Hama-Dori.
"The happiest thing for me in the past decade was definitely the creation of Wonder Farm. It was hard, and became even harder. But the fact of making it at all is a significant result."
In the huge greenhouse under a blue sky, bumblebees pollinate tomato plants. Nine kinds of tomatoes, including Hula Girl and Tuscany Violet, are growing well, waiting for visitors to Wonder Farm to come and pick them.