It will soon be exactly a decade since a giant earthquake (officially termed the Great East Japan Earthquake) struck Japan on March 11, 2011, with the subsequent accident at the Fukushima Daiichi Nuclear Power Plants (NPPs). What did the nuclear accident mean for the region? We are going to look at the reconstruction of Fukushima from the perspective of Yumiko Nishimoto, president of the nonprofit organization (NPO) Happy Road Net. She had been active in the regional development of Hama-Dori even before the earthquake, and since then has been engaged in a range of diverse activities, together with area children.
Children Play the Principal Role in the Sakura Project
– The Fukushima Hama-Kaido Sakura Project aims to plant a total of 20,000 sakura (cherry) trees along the total 163-km length of Route 6 from Iwaki City to Shinchi-machi in the Hama-Dori region. Where did the idea come from?
It came from the children themselves. Before the earthquake, a young participant at a student forum on Hama-Dori regional development had suggested, "If the landscape were prettier along Route 6, more industries might come." The earthquake occurred just as soon as we had decided to plant sakura trees. The project was resumed in the spring of 2012, and planting started in January 2013.
With financial support from local companies, children can become "owners" of a particular tree. As the children — elementary, junior- and high-school students — grow, their trees grow with them. Owners write messages for the plaques attached to their trees, while the names of the supporting companies are not shown. The children are the main actors in the project. Twelve thousand trees have been planted so far.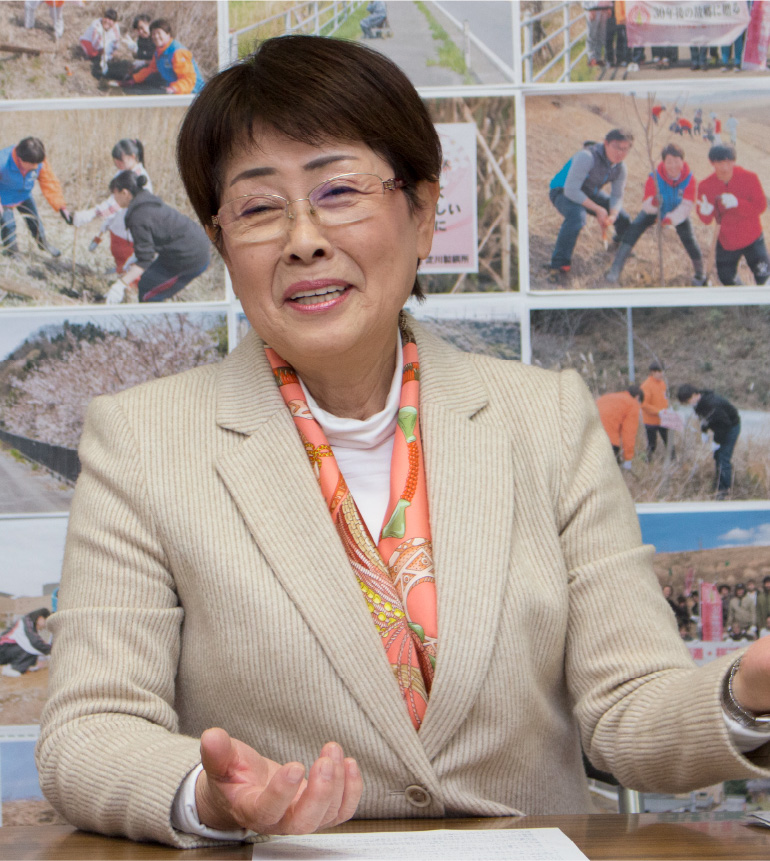 After a Decade of Hard Work, Looking Back on the Disaster
– A decade after the giant earthquake of 2011, what are your thoughts?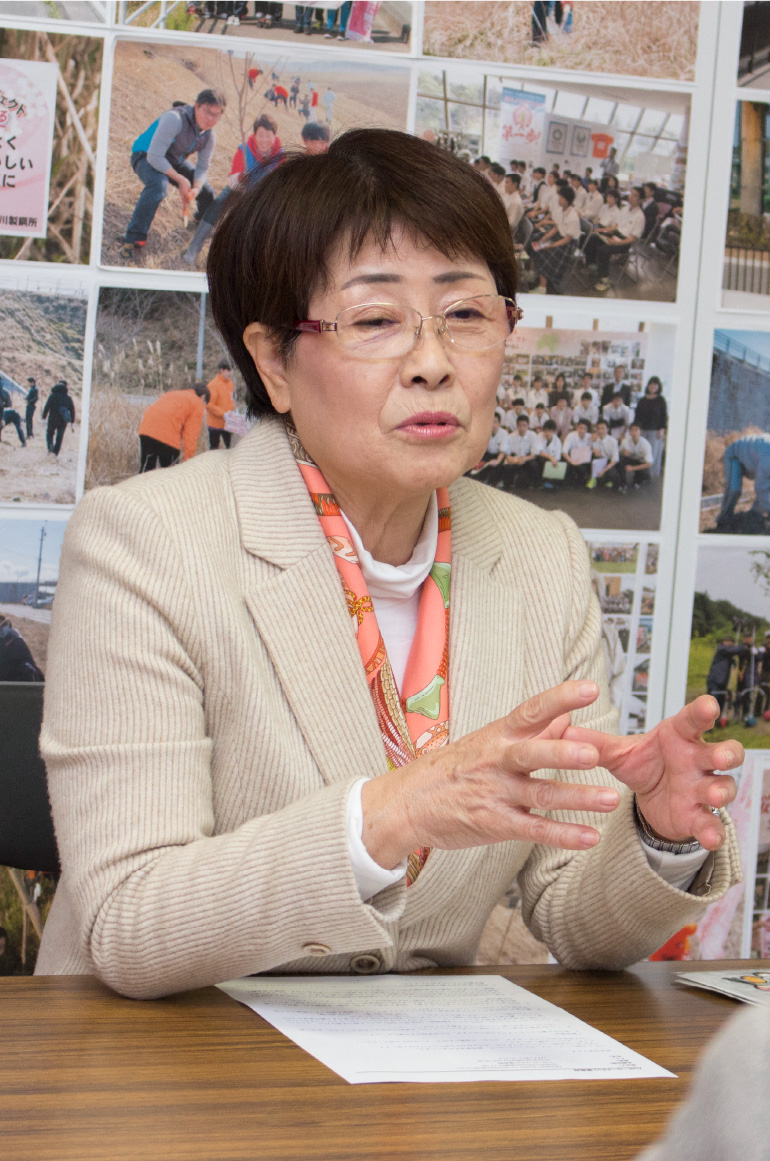 I have been working in the field of regional development for more than two decades. Regional development is an indefinite challenge. Immediately after the disaster, I thought I might quit, but I realized that I had to go on. I have spent the last decade like a surging wave. Should I look at what I had accomplished and accept the decade as it was? Or should I regret not having done something different, or that I only did that much? I should, I think, have better used the time to create a future for the children, removing barriers between the people and their national and prefectural governments. I regret any delays on that front as a result of adult egoism and interests.
On March 11, 2011 (the day of the earthquake), I had been planning to go to Sendai, in neighboring Miyagi Prefecture, for a meeting about a high-school summit to be held in the summer. That morning, I was experiencing so much pain in my arms that I could not lift them, and was unable to drive. So, I made a call, asked for a change of schedule, and stayed home. Then the pain disappeared. Strange, isn't it? Then, several hours later, in the afternoon, the earthquake struck. The sky was black, as was the wind from the sea. I heard later that sand had been transported in the air by the water splashed by the tsunami. Black smoke rose straight up from the chimney at the Hirono Thermal Power Plants across the road from our house. The sky and earth went crazy. I had no words for what was happening. At home, our brand new 100-inch TV fell to the floor, although it had been fixed to the wall, and dishes flew out of a cupboard. Everything was such a mess. If I had gone to Sendai, I would have been on my way back home in the middle of the tsunami.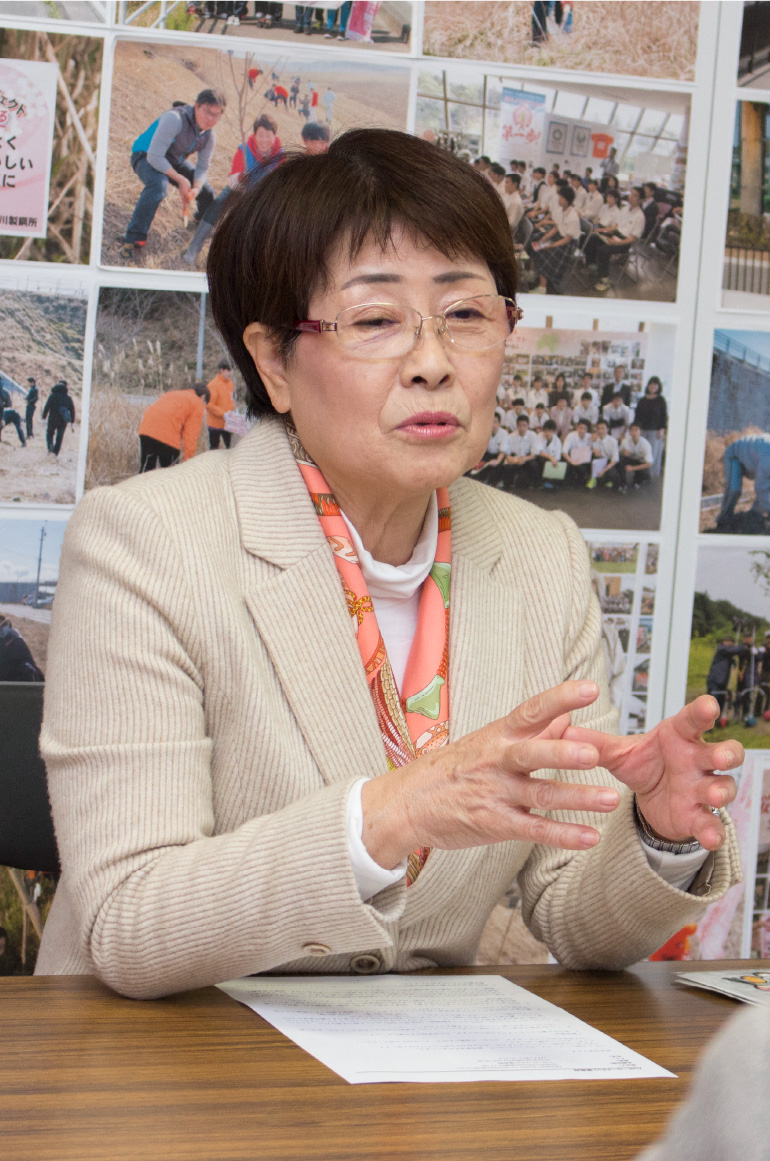 Project Resumed with Support of
the Japan Football Association
– All the residents evacuated Hirono Town after the accident. What did you do?
On the 13th [two days after the earthquake], I went to Tokyo, where my third son was living. I experienced terrible things there, too. I waited in line for three or four hours at a gas station, and was then told they would not fill my car because of the Iwaki plate [as it identified me as a Fukushima resident]. Later, a bag of garbage was left on my car's front window, also because of the Iwaki plate and the fear of radiation. All I saw on TV was gloomy news. For a time, I could not even force myself to eat.
I didn't know many people down in Tokyo. It occurred to me to call Kuniya Daini, then the vice chairman of the Japan Football Association.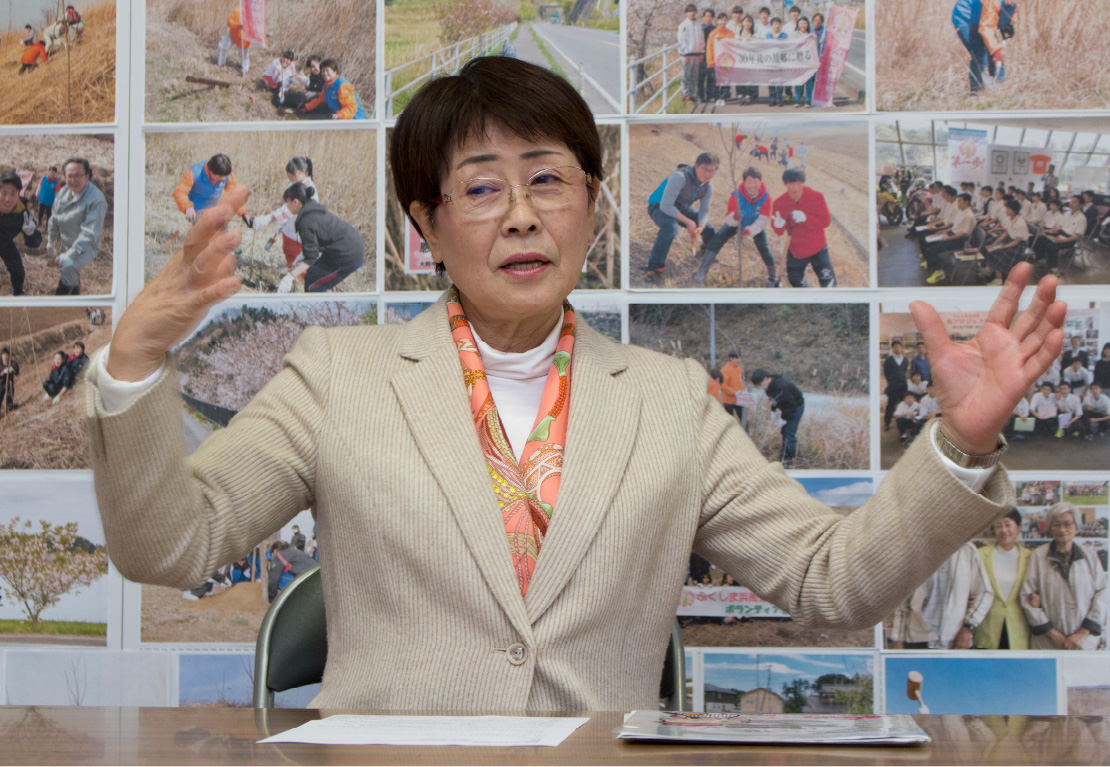 I told him I was depressed. "I'm at the office today," he said. "Why don't you come over?" His association had been gathering needed goods in its gymnasium. Seeing that, I realized what I should be doing. I asked if I could use a corner of the gymnasium as an "office" for a time. I called multiple national women's road development associations, and asked them to collect relief supplies and send them to the gymnasium. I also began checking on the safety of the children in Hama-Dori. When supplies from the women's associations arrived at the gymnasium, staff of the football association helped me sort them out. I loaded my car and headed for the affected area at 4 o'clock in the morning.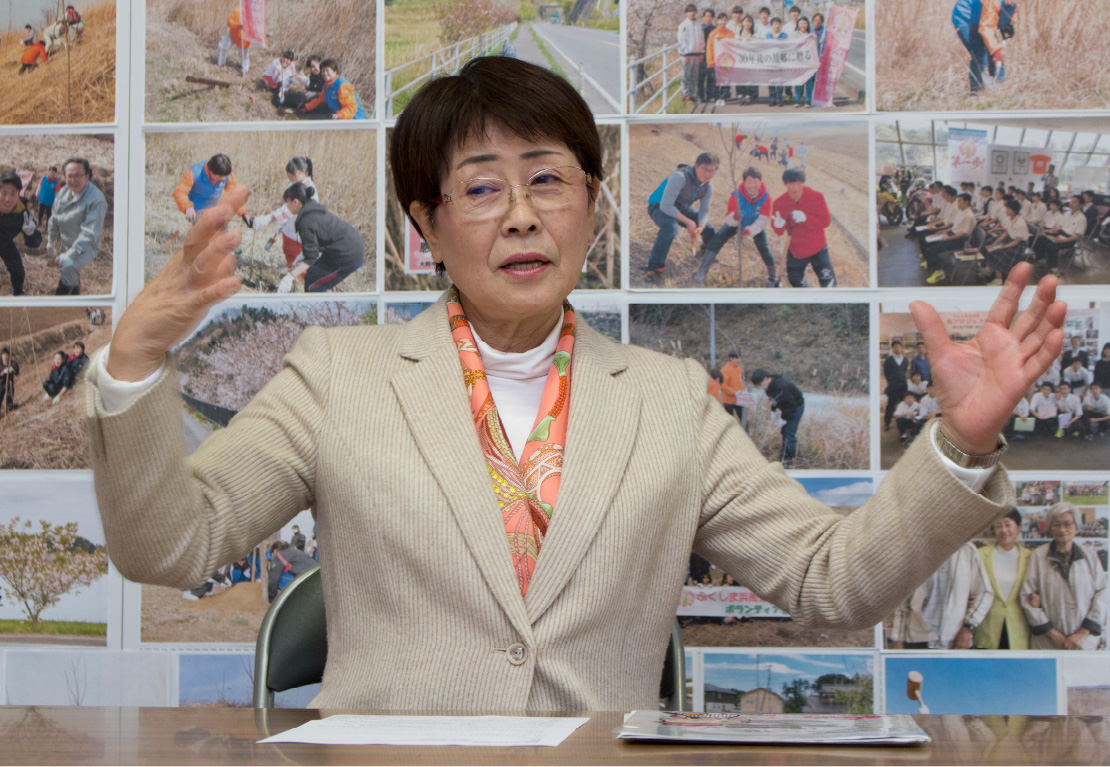 My son had been one of the first players when J Village was created in 1997. We mothers had taken care of the flowers there. That had been our idea — we'd wanted to do it — but the association said that they appreciated it, too. That was how I came to know Mr. Daini. Thanks to a bond formed almost fifteen years earlier, they helped and supported me. Without them, we could not have resumed our activities.
For three months, from April to June 2011, I probably drove 65,000km back and forth between Tokyo and Hirono. The roads were in terrible condition. At the beginning, Self Defense Force (SDF, Japan's military) vehicles pushed debris out of the way and made a narrow lane for cars. I myself traveled back and forth between Tokyo and Iwaki City or Hirono. I just kept thinking something had to be done. But I had so many things to do that I had no time for more.
Still Picking Up Litter Along Route 6
– In 2015, you resumed the project "Let's Clean Up Route 6 — Clean Rokkoku," which you had started before the earthquake, and have been doing it annually since then. Did you clean last year during the coronavirus pandemic?
Yes, we did. And we received more than a thousand critical — some threatening — comments. We live here, and don't want outsiders attacking the project. The children here want to do something, wanting to try various things. We are perplexed when we hear from people who know nothing about the circumstances here. So, when they call me, I tell them, "Come and live here for a month! Stay in my house! Join us! I want you to see for yourself. If you then genuinely believe that what we are doing (cleaning the road) is not appropriate, I will consider seriously what you say. But when you speak without knowing anything, based just on what you have heard in the media, you are not persuasive."
I have never considered stopping the project, nor has my family. They believe what I am doing is right. They show up for the cleaning and help.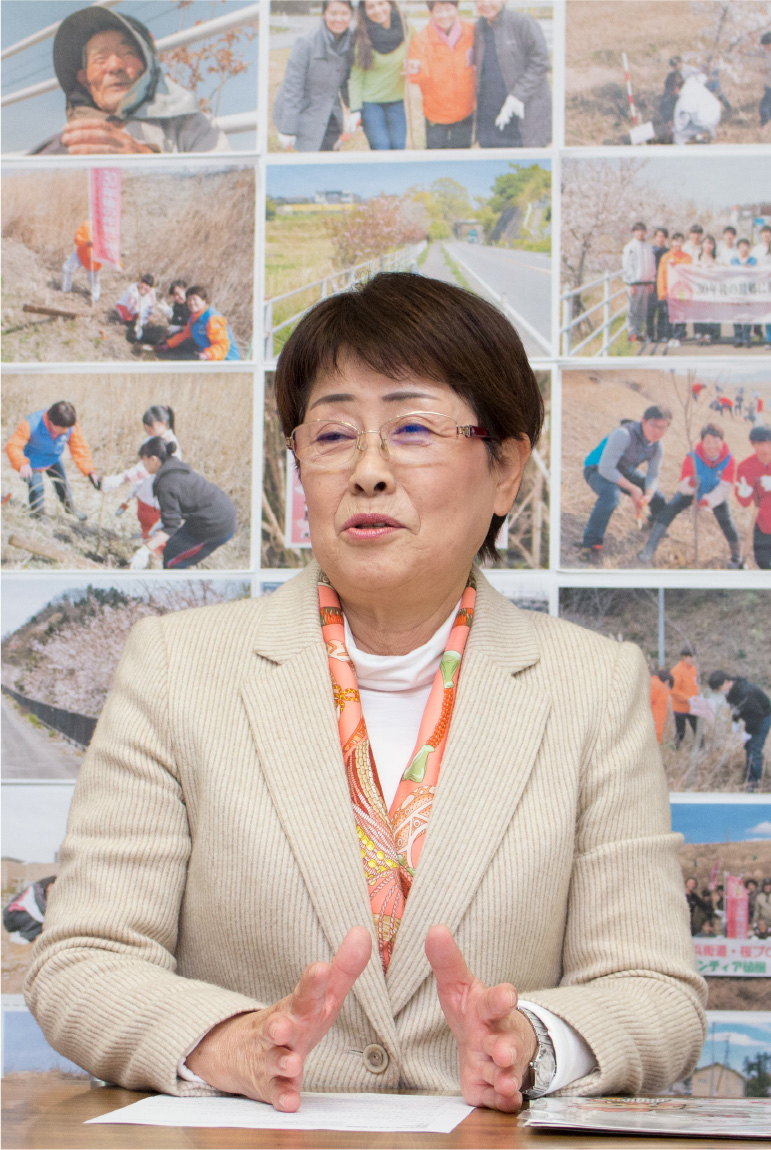 Returning Residents and Their Lives
– Have evacuees been coming back?
In Hirono, an order to prepare for emergency evacuation was lifted on September 30, 2011, and more than 90 percent of the residents who had already left have since returned home. What is amazing is that the Futaba Future School was established in 2015, and a junior high school opened in 2019. Many more non-residents get off the trains at Hirono Station. People work here. The population is increasing. I think reconstruction is further along here than in other towns in Futaba-gun.
– Can we say that life in Hirono Town has been restored well?
Yes. Nevertheless, residents still have much to say. The shopping environment is inadequate. To raise children, it is essential to have orthopedics, ear, nose, and throat (ENT) doctors, and dentists, but there are not enough of them for the size of the population. When it comes to living standards, there are still many things to be done.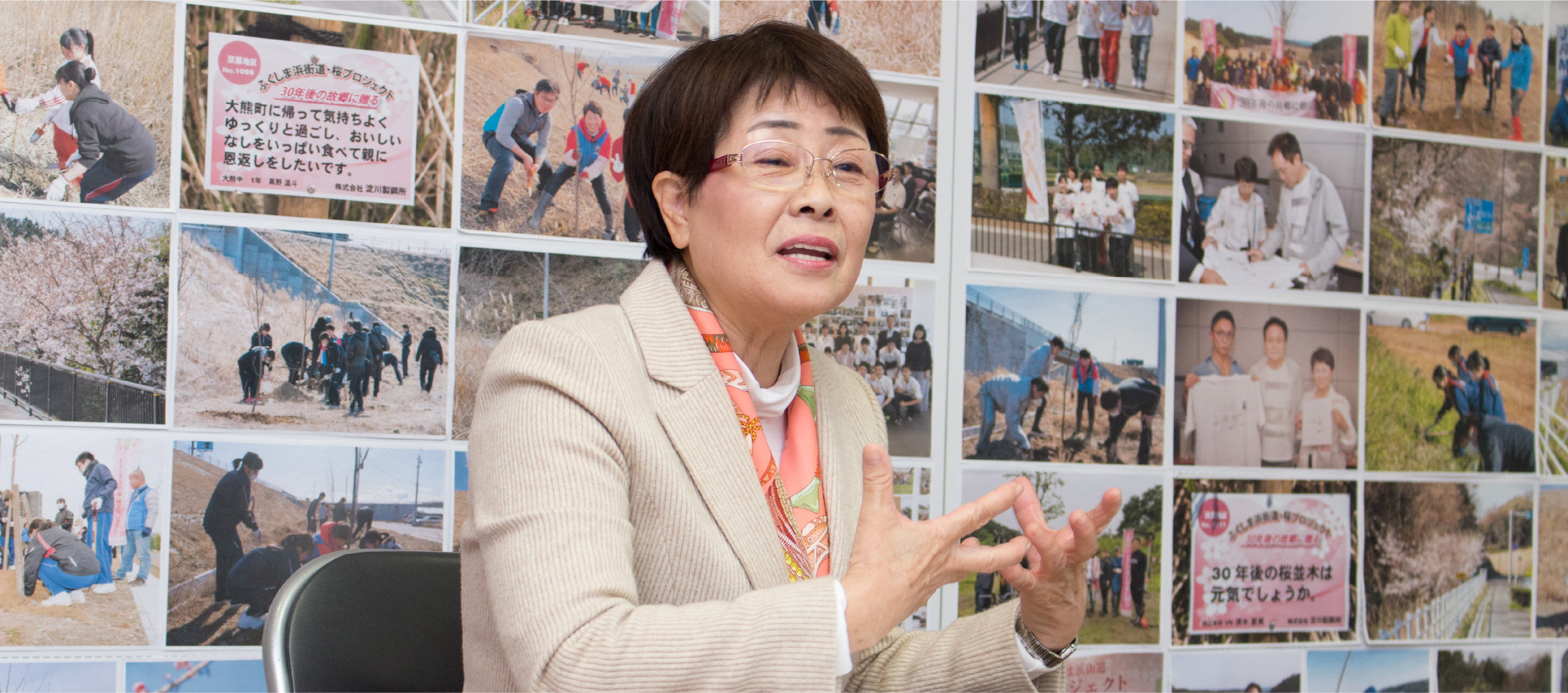 Ultimate Goal of Reconstruction Is to Raise Children Who Can Make Their Own Decisions
– How would you like to see Fukushima reconstructed?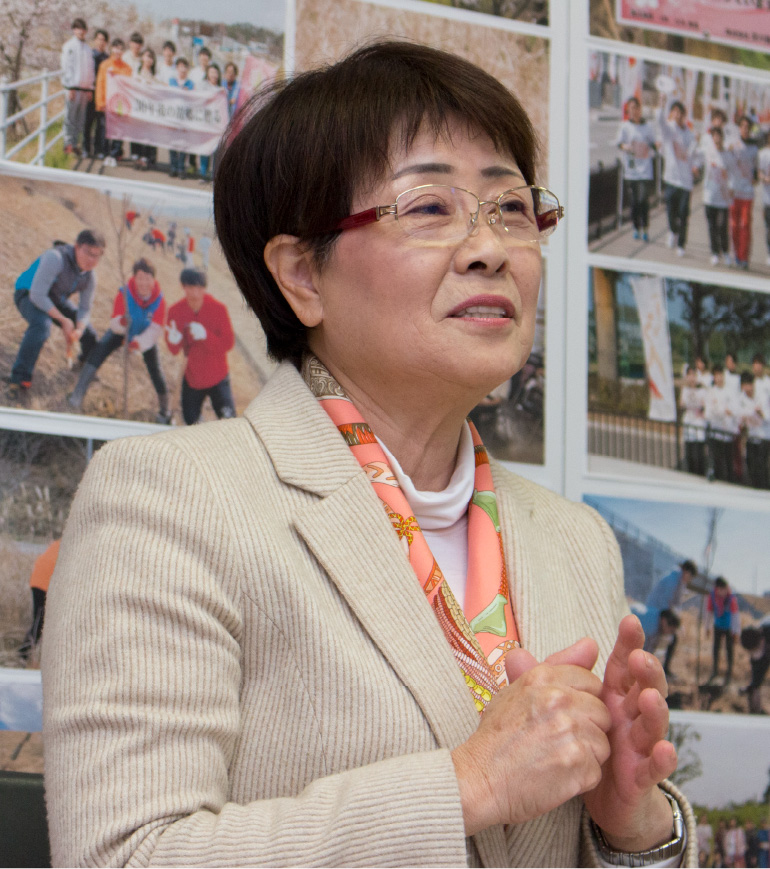 I sometimes think about what "reconstruction" means.
Damage from the earthquake and tsunami was common to all the three affected prefectures. In Hama-Dori, however, deep-rooted effects of the nuclear accident remain. Decommissioning work will be with us for decades. I think it is our responsibility to raise children so that when they become adults, they will be able to deal with the realities here, based on which they will be able to consider and decide what they should do. Reconstruction cannot be accomplished if there are not enough adults around who can decide things for themselves. Putting it differently, the children growing up here will have to be given the tools to deal with the realities that will remain for them. That is what I want to emphasize.
Reconstruction in the true sense will be when adults — young adults — can say, "We want the region to be like this. We have studied in high school and college, have thought about this, and want to do this in this way. The adults before us have done various things, but we want this in our time."
– Happy Road Net also arranges overseas training programs. In 2017 and 2018, junior- and high-school students in Hama-Dori visited Belarus to see how the area recovered from the accident at Chernobyl. In 2019, they went to Sellafield in England to learn about decommissioning. In return, young people were invited from Belarus and Britain. The result has been considerable international exchange activities. I understand that last year COVID-19 affected your plans. What happened?
Last year, the plan was to visit the Hanford Works in the United States. In January and March, I went to Hanford and Seattle [in Washington state] with my staff, and made various arrangements. As the coronavirus pandemic got worse, though, we realized that going abroad would not be possible. Thinking about the children who had applied to participate in the program, we developed an alternative — a visit to Minamata City, Kumamoto Prefecture — in December. That, too, had to be canceled because of the virus. Eventually, because the children still wanted to do something, we had online interviews with people intent on preserving the Minamata story [severe mercury poisoning of thousands of local residents in the 1950's and 1960's by a chemical factory on Kyushu island].
In those discussions, nuclear power came up, as expected. Some children said that nuclear power was necessary, while others said that it was not, and that they did not want to experience anything like the accident again. What I want is for there to be more opportunities for children to discuss such matters directly. I want the next generation, when its time comes, to restore Futaba-gun as it intends, not unquestioningly as the previous generation had done. That is the reconstruction I hope to see.
Not "Giving Up" on Regional Development
– What do you want for Happy Road Net going forward?
I tell the children, "When the coronavirus pandemic is over, and if it is possible to go to the United States, we will look for participants again. If you want to go, raise your hand. I will not give up trying for you." I tell them not to give up either.
I don't think there has been abandonment of regional development, because I think new thinking is part of its nature. This year, too, instead of ending up doing nothing because of COVID-19, we will think differently about what can be done at this time, and what we can do for the children.
Before the earthquake, I had not been so aware of nuclear issues or the facts of radioactivity. Subjects such as tritium water and how to treat it can be difficult, but I understand them now: better than, say, a typical housewife might. After the nuclear accident occurred, I had to recognize that my lack of knowledge was my own problem — something that I had to solve myself. I understood well that there was nothing to do but study.
I want the children to continue to study and learn.